The following two tabs change content below.
An Aussie immigrant to Israel, Aussie Dave is founder and managing editor of Israellycool, one of the world's most popular pro-Israel blogs (and the one you are currently reading) He is a happy family man, and a lover of steak, Australian sports and girlie drinks
Latest posts by Aussie Dave (see all)
Note: This post will remain at the top of the page until the JIB Awards polls have closed
I have already set up the 'finals' polls for the JIB Awards.
The polls for the final round of voting are now open.
All of the finalists can be viewed by clicking
here
.
Alternatively, you can view the finalists for each of the categories by clicking on the corresponding category link:
I will be opening the polls Polls will be open from Monday morning until Sunday morning (Israel time). Everyone can vote only once for the duration of the awards.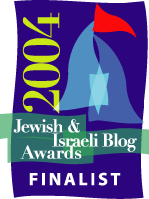 You may also want to publicize that the finals begin tomorrow.
Finally, if you are a potential voter, please have a look at all of the finalists by clicking on the link to their blog. You may just find a very interesting new read.