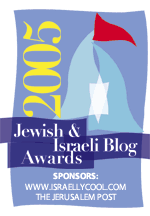 I am please to announce that the JIB Awards 2005 nominations page is now available
here
.
The page displays all of the nominated blogs that will participate in the voting rounds. If your site has been nominated, you may download from the nominations page a JIB 2005 Nominee Badge to display on your site and link to the
JIB 2005 main page
, or the
nominations page
.
The page will remain until January 9th, on which date the preliminary round of voting will commence.
Please spread the word, and publicize the nominations page, so that readers from all over the globe will stop by, and visit the nominated blogs.
Please consider a donation. Besides the work we do - which includes scoops, exposing the haters and posting original and entertaining content - this blog takes up not just a lot of time but also money. Your support is appreciated.