The following two tabs change content below.
An Aussie immigrant to Israel, Aussie Dave is founder and managing editor of Israellycool, one of the world's most popular pro-Israel blogs (and the one you are currently reading) He is a happy family man, and a lover of steak, Australian sports and girlie drinks
Latest posts by Aussie Dave (see all)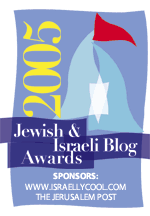 I am pleased to anounce that the Jerusalem Post and I have decided to offer Jewish, Israel, and Israel advocacy blogs which are not already in the
list of nominees for any category
to participate in this year's awards.
From now until tomorrow 9:00pm Israel time, I will be accepting nominations for such blogs. I will select 12 of these to go through to the final voting round, in a new Best of the Rest category. My decision will be based on which I feel are the best of those nominated.
The nominations must be submitted in the comments to this post, and in the correct format. See
this post
for instructions on nominating in the correct format.