The following two tabs change content below.
An Aussie immigrant to Israel, Aussie Dave is founder and managing editor of Israellycool, one of the world's most popular pro-Israel blogs (and the one you are currently reading) He is a happy family man, and a lover of steak, Australian sports and girlie drinks
Latest posts by Aussie Dave (see all)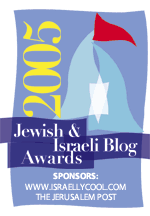 The first round of voting for the 2005 JIB Awards is
now open
on the Jerusalem Post site.
The voting is now taking place in two stages. The preliminary round of voting continues until midnight January 19th EST in 12 categories. The top six vote-getters will advance to the final round of voting which is set to start on January 24th, with the final awards going to the top three placers in each of the 17 categories. The final award winners will be announced on both sites, and will be honored with fame and glory as well as JIB award banners (designed by Zahava Bogner, Ventures Consulting Group, Inc.) to post on their blogsites.
You can view all the nominees and relevant voting groups by clicking
here
.
You may vote once every three days in any single poll, and we suggest you read the competition rules before voting.
Please support the awards by voting in all categories and spread the word to your friends and family.
Thank you for supporting the 2005 JIB Awards on The Jerusalem Post and Israellycool.com. Best of luck to all bloggers.