The following two tabs change content below.
An Aussie immigrant to Israel, Aussie Dave is founder and managing editor of Israellycool, one of the world's most popular pro-Israel blogs (and the one you are currently reading) He is a happy family man, and a lover of steak, Australian sports and girlie drinks
Latest posts by Aussie Dave (see all)
My friends at
Cox & Forkum
hit the nail on the head with this cartoon from a year ago: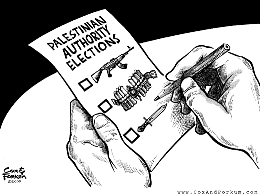 This is precisely my point at the end of
this post
. Whether it be Hamas or Fatah, it does not matter. The only difference is the weapon being used.