My friends at
Cox & Forkum
hit the nail on the head with this cartoon from a year ago: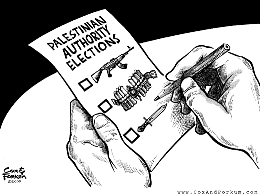 This is precisely my point at the end of
this post
. Whether it be Hamas or Fatah, it does not matter. The only difference is the weapon being used.
Please consider a donation. Besides the work we do - which includes scoops, exposing the haters and posting original and entertaining content - this blog takes up not just a lot of time but also money. Your support is appreciated.