The following two tabs change content below.
An Aussie immigrant to Israel, Aussie Dave is founder and managing editor of Israellycool, one of the world's most popular pro-Israel blogs (and the one you are currently reading) He is a happy family man, and a lover of steak, Australian sports and girlie drinks
Latest posts by Aussie Dave (see all)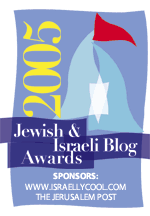 Voting for the JIB awards closed last night, Israel time.
Provisional
results
are now being displayed for each category.* Please note that results are subject to change as the Jerusalem Post validates the votes, and makes adjustments in cases of ballot stuffing.
Winners will be announced on February 9th.
* I am aware of the fact that the results for the Best Series category are not currently being displayed. The problem will be resolved soon.