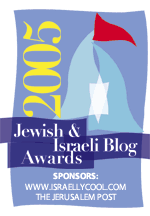 Voting for the JIB awards closed last night, Israel time.
Provisional
results
are now being displayed for each category.* Please note that results are subject to change as the Jerusalem Post validates the votes, and makes adjustments in cases of ballot stuffing.
Winners will be announced on February 9th.
* I am aware of the fact that the results for the Best Series category are not currently being displayed. The problem will be resolved soon.
Please consider a donation. Besides the work we do - which includes scoops, exposing the haters and posting original and entertaining content - this blog takes up not just a lot of time but also money. Your support is appreciated.