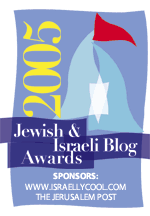 Voting for the JIB awards closed last night, Israel time.
Provisional
results
are now being displayed for each category.* Please note that results are subject to change as the Jerusalem Post validates the votes, and makes adjustments in cases of ballot stuffing.
Winners will be announced on February 9th.
* I am aware of the fact that the results for the Best Series category are not currently being displayed. The problem will be resolved soon.
About the Author
Having been brainwashed at a young age, Jono moved to Occupied Palestine 20+ years ago from Australia. After 15 years selling insipid Jew technology to immoral, BDS snubbing foreigners he decided the ultimate evil would be to sell the cancerous Zionist Regime as a product itself. He now works selling luxury private tours of the heinous Zionazi hellhole to infidel supporters of Apartheid, colonialism and Western Imperialism.
Filed Under: JIB Awards 2005