Today, I have awoken to the devastating news that the body of 18-year old Eliyahu Asheri was found in the A-Tira neighborhood of Ramallah.
Our forces were able to locate his body after interrogating a terrorist we had arrested. It was determined that he had been shot in the head from close range soon after he was kidnapped.
According to Ha'aretz, soldiers arrested a terrorist in connection with the murder early this morning.
According to his grandfather, Eliyahu was "a great kid, very responsible, very serious and sensitive… He was at his greatest, blossoming and very happy." There was also an Australian connection. Eliyahu's father immigrated from Melbourne. In fact, the Australian embassy had approached the family, offered assistance and had been in contact with the Palestinian Authority, but all to no avail.
I offer Eliyahu's family my sincerest condolences.
Updates (Israel time; most recent at top)
Day Three Updates: Click here.
10:40PM: That's it from me for today. I'm not sure if I'll be up to liveblogging again tomorrow, but who knows. In the meantime, please spare some thoughts for the Shalit and Asheri familes, as well as the families of our brave IDF soldiers.
Good night.
10:26PM: A Kassam fired by palestinians in northern Gaza has landed near a school gymnasium in Sderot.
10:18PM: A bit of understanding shown by one of our peace partners:
The Jordanian government harshly condemned "Israel's determination to continue its broad aggression acts against the Palestinians citizens with no right or reasonable and justified reason".

Jordanian government spokesman Naser Juda told the Jordanian news agency Petra that "The Israeli government imposes collective punishment against an entire nation, in addition to the wide-scale arrests in the Palestinian territories."
9:25PM: Chief of Egyptian Intelligence, Omar Suleiman, is set to meet with PA Foreign Minister Mahmoud "the Wart" a-Zahar to try to convince him to release Gilad Shalit.
This explains why Israel delayed entering northern Gaza. Egypt suggested that they attempt to broker a deal, and Israel saw the diplomatic value in this. As the JPost reports:
Israeli officials supported the meeting, saying that continuing diplomatic efforts would increase international support for Israeli moves.
8:59PM: Norway have condemned Israel's arrest of the Hamas terrorists. As you would expect from Norway.
8:55PM: The palestinians have fired 4 kassams into the Western Negev.
8:18PM: Here's more on the Asheri family, and the Australian connection.
7:50PM: Israeli diplomats have stated that Israel had avoided arresting
Hamas members until now "because we wanted to give Mahmoud Abbas a chance to fight
terror, but the latest incident changed Israel's position."

7:33PM: Israel plans to try the senior Hamas officials arrested this morning, according to the Terror-Prevention Act.
6:55PM: Ha'aretz reports that the delay in the IDF's entrance into northern Gaza "apparently comes in response to an Egyptian request to freeze the operation in order to allow an opportunity for negotiations to secure the release of kidnapped IDF soldier Gilad Shalit."
6:49PM: Despite being "warned" yesterday with an IAF flyover, the Syrians are not budging.
6:48PM: It seems that Shimon Peres does not just invent realities. He also invents words.
"They have to decide if they're a government or if they belong to a

terroristic organization," Israeli Deputy Prime Minister Shimon Peres

said, explaining the Hamas arrests.
And in case you think it is a CNN transciption error, look here.
5:57PM: More on the Hamas terrorists blowing a hole in the border wall between the Gaza Strip and Egypt. I have to wonder about how much effort Egypt put into stopping them.
Egyptian personnel summoned a bulldozer to the site

in order to dig a dirt embankment which would prevent infiltration of

Palestinians into Sinai, but to no avail.

How hard can it be to stop them? The Egyptians have weapons, don't they? Maybe I am being unfair, but here's a picture from the incident: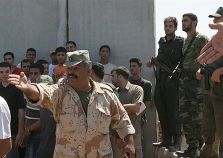 An Egyptian officer gestures as he tries to prevent Palestinians from pushing through the gaping hole caused by a land mine detonated by militants on the concrete wall on the border with Egypt in the southern Gaza Strip town of Rafah Thursday, June 29, 2006. The explosion blew open a large hole in a wall near the border, witnesses and officials said. Palestinian security personnel formed a human cordon to prevent people from pushing through the hole.(AP Photo/Petros Karadjias)
Looks to me like the Egyptian officer is directing traffic, so as to make their escape easier!
5:42PM: I know this is off topic, but I can't resist this headline from the Ha'aretz news alerts:
Jordanian who used Brad Pitt`s photo on forged ID card goes on trial in UAE (AP)
I would ask this Jordanian what I would ask the palestinian terrorists who kidnapped Gilad Shalit: What were you thinking?
5:35PM: Depite the PRC terrorists' claims that they kept Eliyahu Asheri alive for a few days, and their attempts to characterize Israel's security as a "paper tiger", the IDF have ascertained that Eliyahu was, indeed, murdered a mere hour after he was abducted. Which also shows that the terrorists had no intention of holding negotiations for his release.
5:26PM: The IDF's entrance into northern Gaza – slated for tonight – will likely be delayed.
5:25PM: PA and Fatah officials are pressuring palestinian President Mahmoud Abbas to announce the establishment of a crisis government until the next election.
5:15PM: Hamas operatives have reportedly blown a hole in the border wall between the Gaza Strip and Egypt, succeeding in crossing the border into Sinai from the Brazil neighborhood of Rafah.
4:54PM: In their latest press release, the International Solidarity Movement (ISM) flat out accuse Israel of executing palestinians.
This Friday June 30 2006, the people of Bil'in along with International and Israeli activists will engage in their weekly demonstration against the apartheid wall built through their land. For more than 1 1/2 years the villagers have been non-violently protesting with new creative themes representing various aspects of the Occupation. This week they will be focusing on the execution of Palestinians by Israeli incursions, starvation, bombardments on Gaza and daily restrictions on Palestinian life. They will be wearing hoods made to resemble those donned by people slated for execution.
I think the ISM have confused the sides.
4:43PM: A Fatah official has blamed Hamas for the current situation.
4:30PM: Eliyahu Asheri's mother:
"The pain is great, almost too great to bear. But

one thing I feel, despite all this…is that in the wake of disagreements

between our brethren, with our different worldviews and different

relationships to the land of Israel that creates a lot of conflict, a

lot of anger, a lot of argument – many times, I've asked G-d that he

should first of all grant me love for everyone in my heart, and … that

He should show me the special quality of the nation of Israel, and that

I should succeed – that we should all succeed in loving each

other'Ķtruly from the heart….The help there was'Ķ I don't have the words to describe how encouraging [it was]'Ķhow everyone was truly so wonderful..And I think this was also Eliyahu's way. 'ĶWhenever there was a

fight, he would always say, 'Stop, everyone should have their place'Ķ,'

and his way was always one of peace. And I think this is an impetus –

god forbid we should ever have such a terrible impetus – but an impetus

for true unity between all factions, despite disagreements – and they

do exist Рbut to see the good in the Jewish nation….What strengthens you is, first of all,

knowing that everything is from God, knowing that to die sanctifying

God's name, as he did – that God chose him to sanctify the name of

heaven in public. This is the thing that comforts us. Any other comfort

is trivial in my estimation, it doesn't let my spirit rest."
4:25PM: The G8 have expressed their concern over Israel's arrest of the Hamas terrorists. Has the world gone completely mad?
3:40PM: I mentioned in my 11:00AM update that the supposed third kidnapping victim, Noah Moscowitz, was likely not kidnapped by the terrorists who claimed his abduction.

Here's more on that:
One suspicion is that the militants found Moskowitz's name on an Internet site that reported he was missing, and decided to use the information as part of its psychological warfare.

Police suspect disinformation, but the IDF said that intelligence efforts are continuing so as to confirm that Moskowitz was not kidnapped.

However, IDF personnel estimate that the wave of kidnappings may be used by Palestinian factions in order to spread fear and disinformation.
3:30PM: Here's more on yesterday's White House press briefing.
Q Does the United States support what Israel is doing in Gaza?

MR. SNOW: Let me be — I'm going to be very precise on this, because, as you know, these things are reported carefully. The hostage-taking and the attacks by Hamas last weekend have precipitated the current events in Gaza. As we have said since the attack, Hamas should release and return the kidnapped Israeli soldier immediately. It's the responsibility of the Palestinian Authority to stop all acts of violence and terror. Hamas has done the opposite: It's been complicit in perpetrating violence, terror and hostage-taking. Israel has the right to defend itself and the lives of its citizens. In any actions the government of Israel may undertake, the United States urges that it ensures that innocent civilians are not harmed, and also that it avoid the unnecessary destruction of property and infrastructure. All parties ought to take every measure to restore the security situation in Gaza.

Q And do we think that the Israeli response has been appropriate and within the limits that you're talking about?

MR. SNOW: I'm not going to characterize further than what I've told you. There's your statement of position.

Q But, Tony, the Israelis have bombed a power plant — that harms innocent civilians. Haven't they, like, clearly gone beyond what you've just described here?

MR. SNOW: Again, I'm not going to get into operational details here. Let's just point out once again, you have the Israeli — the Israeli forces are trying to reclaim somebody who is kidnapped and is being held hostage in Gaza, and they are doing what they can to return him. It would be a lot easier if the Palestinian Authority and if Hamas simply returned the kidnapped soldier. I am not going to get into rendering judgment on any of the operational details of what's going on there.

Q Palestinian leaders have called this "collective punishment." Is it, or isn't it?

MR. SNOW: Again, I will just simply refer to it. I'm not going to get into the midst of the characterizations. I'll repeat, the Palestinian Authority could make this very simple — they could return the kidnapped soldier. And the most important thing is to try to restore some semblance of security as rapidly as possible, and we hope both sides will cooperate in that.
I think Tony Snow did an admirable job.
3:12PM: The northern branch of the Islamic Movement in Israel have shown where their allegiances lie:
The northern branch of the Islamic Movement in Israel aggressively condemned the arrest of Hamas ministers and parliament members Thursday.

"The occupation is to blame and Israel carries full responsibility for that is taking place," a message by the movement said.

The statement said that "the arrest of ministers, parliament members, and Palestinian mayors is proof that there is no place for Palestinian sovereignty in the lexicon of the Israeli government. Therefore, it is no wonder that the 'there is no partner' melody is heard over and over again."

Before releasing the statement, the northern branch of the Islamic movement in Israel announced a day of fasting to identify with "our besieged Palestinian people."
3:00PM: This Daily Kos commentator is relieved:
I was hoping he would be found dead

I don't mean to sound callous, but I'm relieved. The Israelis were preparing to kill thousands of innocent Palestinian civilians through denial of electricity, water and emergency aid through their invasion of Gaza. At least now there is hope that they will allow water and emergency services to be restored.

I hate to say it, but this [the murder of Eliyahu Asheri- ed.] was the best outcome we could hope for in this disasterous situation.
I cannot even comprehend the moral bankruptcy.
2:54PM: Elder of Ziyon has another post on the palestinian women and children prisoners. He remarks:
Notice how a Palestinian 18-year old in jail is considered a "child", yet a murdered 18-year old Jew is considered a "settler" by the media.
2:46PM: Eliyahu's funeral began 15 minutes ago.
2:38PM: Did I mention I am eagerly awaiting CAIR's condemnation of Eliyahu's murder (a war crime)?
2:27PM: French Foreign Minister Philippe Douste-Blazy (who I dubbed Douche-Bag in this post) has condemned our arrest of Hamas members today.
(I'm still awaiting Monsieur Douche-Bag's condemnation of the palestinians' kidnapping of the young Israelis, and the confirmed murder of one of them).
1:50PM: Let's see what the palestinian bloggers are saying about Eliyahu Asheri's brutal murder.
This one doesn't seem to be too upset:
….the Israeli Kidnaps are nothing but occupier settlers and terrorist solider, whereas the Palestinians Kidnaps are democratically elected parliament members and ministers!
Nice.
1:28PM: Some words of wisdom from former US envoy to the Middle East Dennis Ross:
Former US envoy to the Middle East Dennis Ross said on Thursday that Israel mustn't negotiate for the release of Cpl. Gilad Shalit, who was kidnapped on Sunday and whose release was the main objective behind the recent IDF incursion into the Gaza Strip.

He asserted that negotiations would only bring about more kidnappings.

Ross told Israel Radio that the Palestinians must understand that their leaders in Damascus are only making them suffer, while the leaders sit safely in Syria. The former envoy called upon the US to apply pressure on Hamas leader in Damascus Khaled Mashaal.
1:25PM: Our Defence Minister Amir Peretz:
"We are in one of the most significant moments in respect of deciding the rules of the game between us and terror sources in the Palestinian Authority in the coming period."
I would posit that the rules of the game should have been decided way before we reached this point.
When palestinian terrorism started, we should have shown them that terrorism does not pay. Unfortunately, their terrorism has paid. They have gained land, fellow terrorists released from our prisons, weapons, funds, and, assurances that they will have a state.
1:05PM: In a post entitled Assassinating Zionist Servers, anti-Israel/pro-terrorist blog Kabobfest boasts about the hacking of Israeli sites, and encourages more of the same.
Shout out to all my Moroccan hommies.

A Moroccan "Geek Squad" has unleashed an e-attack against Israeli interest destroying over 750 websites since the beginning of the current Zionist attack on the Gaza Strip.

—-

Of course this is no match for Israel's barbarism, which in the first few hours of the attack, managed to bomb bridges, power plants, water infrastructure, streets, and a university.

Nonetheless, these kids are doing a pretty darn nice job. Perhaps when they turn 20, and have a little more experience under their belt, they'll take it up a notch, and may be take down the sites of the big criminals, like the IDF, IAF, Ministry of Defense, Foreign Ministry, AIPAC, Bezeq, the Jewish Agency, and the Jewish National Fund.

When that happens, I promise to through you a KABOBfest e-KNAFEHparty.
I wonder what Blogger's policy on calling for cyberterrorism is.
12:55PM: Following on from the 12:10PM update, Arab MK Bishara has called the IDF's arrests of Hamas officials the "behavior of a terror group." Yes, folks, he is a member of the Israeli Knesset.
12:30: Australian Foreign Minister Alexander Downer:
"The Government expresses its sincere condolences to the family of Eliyahu Asheri in Israel and Australia," he said.

"Australia utterly condemns such barbaric acts, which do nothing for the prospects of a peaceful resolution of the Israeli-Palestinian conflict.

"The world stands united in opposition to the heinous acts of terrorists which take the lives of innocents.

"Our embassy in Tel Aviv and our representative office in Ramallah are in touch with Israeli and Palestinian authorities to ensure steps are taken to bring the perpetrators of this crime to justice."
Notice the headline to this story: Downer condemns killing of settler.
Once again, the media are not willing to call this what it is – the brutal murder of a teenage boy. Just because he happened to live in a place that palestinians claim belongs to them (and Jews claim belongs to them), does not justify his barbaric murder. But headlines like this almost cry out for understanding of the perpetrators' actions.
12:13PM: The PRC, the terror group that kidnapped Eliyahu Asheri z"l, claim that they kept him alive for two days before killing him, contrary to Israeli reports that he was killed on Sunday, not long after he was abducted.
12:10PM: Member of Knesset Zevulun Orlev has called to revoke the Knesset membership of Arab MKs who support Hamas.
I would actually have them tried for treason as well. What would happen in the US, for example, if a senator expressed support for Al Qaida, and had even met with Osama bin Laden?
12:00PM: Hitchiking a sin? It is now.
11:58AM: Ha'aretz reports that the mass arrests of Hamas officials and members – currently standing at 87 – was planned weeks ago.
11:12AM: More on Eliyahu z"l, from Rabbi Yitzhak Nissim:

"We lost one of the best boys. The contrast between his goodness and radiant smile and the evil and cruelty of the other side is so extreme..The Israeli community owes him. We all owe

him. He was one of society's best..He loved to

help people; he was a person of faith and roots regarding the state and

land of Israel. "
11:10AM: The body of Noah Moscowitz, 62, from Rishon Lezion, has been found. It seems as though he was not kidnapped by the terrorists who claimed his abduction. Rather, they heard he was missing, and tried to exploit the situation.
10:25AM: Cox & Forkum once again sum it up nicely.
10:15AM: Israel has arrested an additional 17 Hamas members in the last hour.
9:55PM: Could the pressure be working? According to Ha'aretz, PA Chairman Mahmoud Abbas and Egyptian President Hosni Mubarak have spoken with Syrian President "Dorktator" Assad, asking him to act for Gilad Shalit's release.
9:47PM: JPost reports that an explosive device was thrown at IDF troops in Nablus.
9:40AM: Ynetnews reports:
An al-Aqsa Martyrs Brigades Member, Abu Ahmed, told Ynet that despite the threats being heard, local organizations are preparing for the IDF incursion. "In previous invasions the Israeli side absorbed heavy losses in armored personnel carriers and jeeps that blew up, but this time we promise that the losses on the Israeli side will be much larger. We are preparing suicide bombers, car bombs, tunnels, and booby trapped donkeys. Everything that the Israelis encounter could turn out to be a deathtrap," he said.

Abu Ahmed said that the Palestinian fighters will use massive amounts of rockets and mortars against the IDF forces that will advance towards them. "We will use tonight and in coming days in weapons and rockets that have not yet been operationally used. The Israelis won't know from where they are being it. Northern Gaza will turn into one large cemetery for the invaders.
Sounds to me like the kind of tactics that could endanger palestinian civilians. But I guess the terrorists are only interested in killing Israelis. Contrast with the IDF's efforts to avoid civilian casualties, which I mentioned yesterday.
By the way, I hope PETA are taking note. Although, I can guess their response.
9:29AM: A Hamas official has called Israel's dawn arrest of 64 Hamas officials as "open war against the Palestinian government and people."
I would have thought that Hamas' own charter, coupled with the thousands of terrorist attacks they have perpetrated, constituted open war against the Israeli people.
By the way, I have long called for "open war", in the sense that once we acknowledge that the palestinian terrorist government is waging war on us, we can react according to the rules of war. Our problem has been that we have treated this conflict as something short of war.
It is good to strive for peace. But if someone wages war on you, you need to recognize this, defend yourselves, defeat the enemy, and then work towards a peaceful solution if a peace partner exists. We tried relying on the PLO/PA to live up to their obligations under the various peace agreements we have signed with them. But at the end of the day, not only have they not done anything about the terrorism, but many have been involved in the terrorism itself.
9:15AM: Charles Johnson:
By the way, I'd like to make something clear. When I title a post, "Palestinians Claim Hostage Murdered," I mean it exactly that way. It's not a "group" of "militants," "loosely linked" to Hamas. It's the Palestinian people. If they want to be a state, that means taking responsibility for their elected government.

And the Palestinian populace voted overwhelmingly (as CAIR is fond of telling us) for the Hamas government, knowing full well its radical nature and genocidal intent. What's happening today is a direct result of that election.

I'm sick to my soul of this politically correct attitude of coddling savagery.

If 18-year old Eliahu Asheri really has been murdered by his kidnappers, every single Palestinian who voted for a Hamas candidate bears some of the blame.
And as I have mentioned before, I would like to see some condemnation of this cold-blooded murder from the palestinian side.
9:10AM: The Age has more on the Australian connection.
The Australian Jewish News reported this week that Eliyahu's father, Yitro Asheri, is originally from Adelaide. It said he converted to Judaism 20 years ago and moved to Israel shortly after.

—-

St Kilda Rabbi Philip Heilbrunn, who converted Yitro Asheri about 20 years ago, had earlier called on members of the Jewish community to pray for the kidnapped man.

"A young boy, Eliyahu Pinchas Asheri, son of Yitro Asheri, is the child of a wonderful ger tzedek [convert] whom I converted over 20 years ago. Please ask everyone to say tehillim for him as well. His father is a most remarkable person who is a real tzaddik," the Rabbi said in a statement, quoted in the Australian Jewish News.

A spokeswoman for the Department of Foreign Affairs told smh.com.au: "We are aware of reports that an Israeli national, Elyahu Asheri, reportedly kidnapped in the West Bank and held by Palestinian militants may have been an Australian citizen.

"But we have confirmed that Elyahu Asheri is not an Australian citizen but has an Australian family.

"We are in touch with his family and will provide consular assistance if required.

"Our embassy in Tel Aviv and our representative office in Ramallah are in touch with Israeli and Palestinian authorities about Mr Asheri's whereabouts."
9:08AM: Will someone please explain why most media outlets are referring to Eliyahu as a "settler"? Here's a sample of headlines:
– CNN: Settler's body believed found
– BBC: Seized Israeli settler found dead
– Yahoo/AP: Israeli settler executed amid more airstrikes
Even some Israeli news outlets are guilty of this. For example, the headline on Ynetnews is Settler teen'Äôs body found in Ramallah (at least they include the word "teen").
Given that the media have long used the word "settler" in a negative light, to connote someone who has driven palestinians from their homes, I am furious that the media are referring to Eliyahu in this way. He was a teenage Israeli boy murdered in cold blood by terrorists.
8:55AM: Just think about it for a second. An 18-year old teenager shot in the head. At point blank range. For the sole reason that he was Jewish/Israeli. It is chilling.
I will be monitoring the pro-palestinian blogs and sites today to see if I can find even one condemnation of this brutal murder. I am not hopeful.
Please help ensure Israellycool can keep going,
by donating one time or monthly