You may recall the winner of the Most Likely to Have Caught His Privates in His Zipper Award in the First Annual Muslim Protest Awards of last September.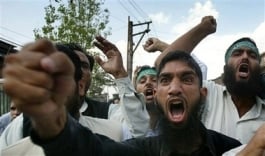 You can imagine my surprise, then, when I saw this picture taken today.
A Kashmiri protester shouts anti-Israel and anti-U.S. slogans during a protest in Srinagar, India, Friday, Feb. 16, 2007. Shops and business establishments remained closed in the troubled state of the Indian portion of Kashmir during a general strike against the Israeli government's current construction works outside the Al-Aqsa Mosque compound in Jerusalem's Old City. (AP Photo/ Mukhtar Khan)
Correct me if I'm wrong, but that's zipper boy. And it looks like he is still having frank & beans issues.
Which raises the question: What are the chances that the very same protester would be photographed, six months apart? I guess it depends on how many protesters there were in both protests (all I found was this report, stating there was a "large number").
Or….
What if he was "planted" for propaganda purposes, like a new version of Green Helmet Guy?
Although, in this case, it would likely be purple by now.
Please help ensure Israellycool can keep going,
by donating one time or monthly