Members of the anti-Zionist Neturei Karta (no relation to Jimmy) are up to their old tricks, this time meeting with Islamic Movement leader Sheikh Raed Salah.
Mahmoud Ahmadinejad is not alone, Islamic Movement leader Sheikh Raed Salah can now also count himself among Neturei Karta's friends.

On Tuesday six Neturei Karta activists arrived in east Jerusalem to show their support for Salah at his protest tent pitched in the Wadi Joz neighborhood.

During the visit, Israel Hirsch, from the strictly Orthodox Mea Sheraim neighborhood, gave a rallying speech expressing his support for Salah, who also spoke at the meeting.

Earlier this month Salah was arrested at the Mugrabi excavation site after forcibly breaking through the police line guarding the area along with several of his followers. A court slapped him with a restraining order and he has since maintained the required 150 meter (500 feet) distance from the walls of the Old City.

"The Zionists have no right to change Jerusalem," Hirsch told Ynet on Tuesday. He also said that Salah and his followers greeted the Neturei Karta members "with joy and warmth."
If this meeting was anything like their meeting with Ahmadinejad in Iran, I am not surprised there was "joy and warmth." I just hope Hirsch laundered his trousers afterwards.

"Everything we do near the Temple Mount riles the Muslim world against us. The excavations are being done in the name of the Jewish people, but not everyone agrees to this. Not every Jew is a Zionist. We object to these actions and we're here to convey this message to Muslims," added Hirsch.

In response to the official standpoint that the motive for constructing the new bridge is a matter of public safety, Hirsch replied: "One must act to save lives, but have the Palestinians do it. The Zionists have no business sticking their noses in this matter."
And I don't want to know where the Neturei Karta members have been sticking theirs.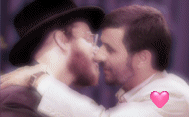 Please help ensure Israellycool can keep going,
by donating one time or monthly
Facebook Comments
comments