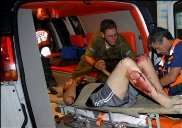 Please scroll down for updates.
This morning, palestinian terrorists launched a Qassam at an IDF basic training base near Kibbutz Zikkim, wounding 67 soldiers – both male and female. Two terrorist groups – the Salah a-Din Brigades (the military arm of the Public Resistance Committees) and the al-Quds Brigades (Islamic Jihad's military wing) have claimed responsibility.
There are conflicting reports about the point of impact. While Ha'aretz reports that the Qassam hit an empty tent, Ynet reports that it contained a number of soldiers at the time of impact.
Driving to work this morning, I heard on the Ramallah-based radio station RAM FM that Israel had retaliated, firing at the Gaza town of Beit Lahiya. However, as the Jerusalem Post reports, this may have been a "work accident".
I anticipate that Israel will launch some military response to this, given the target and number of casualties. I can also imagine that Prime Minister Olmert feels somewhat foolish, given that he yesterday promised to push for a palestinian prisoner release ahead of Ramadan. Then again, we are talking about Olmert.
Of course, it goes without saying that I will endeavor to post updates during the course of the day.
Updates (Israel time)
10:15AM: The IDF has confirmed striking in Beit Lahiya in a bid to thwart the rocket attacks.
10:35AM: The IDF has confirmed that 4 soldiers have been seriously hurt.
10:38AM: Now it's 69 injured, 1 in critical condition.
10:50AM: Vice Premier Haim Ramon has stated that we will cut off water, electricity and fuel supplies to the Gaza Strip in response to the rocket attacks.
10:55AM: Jameel describes it as an Erev Rosh Hashana miracle.
Around 7 AM, I sent an SMS to a neighbor "Qassam fell in Zikim, dozens wounded" (we frequently update each other on news going on around Israel), and he called me back within a minute. "No kidding," he said, "there were 67 wounded soldiers…I got the call at 3:30 AM from my son…I'm here in the hospital with him in Ashelon….Baruch HaShem he's OK…very minor injury…should be home for Rosh Hashana."

He proceeded to tell me how the soldiers sleep outside in tents, and have 10 seconds from the time the "Tzeva Adom"/Code Red missile alert system goes off, till the rocket lands. The soldiers were all sleeping soundly when the alert went off at 1:30 AM, and most barely woke up from it.

The rocket landed smack in the middle of the tent camp where everyone was sleeping…and directly hit a tent, exploding into the concrete floor which sent shrapnel flying through canvas tent walls in all directions.

However, of all the tents the rocket could have hit, which were all full of sleeping soldiers, the tent the rocket landed in…was strangely enough…the only empty tent.
11:20AM: Just something I would like to remind my readers: This was a basic training base, so the vast majority of soldiers were newly recruited, 18 year-olds.
11:55AM: Ha'aretz reports that 45 troops are still hospitalized.
1:15PM: Some promising news: The soldier who sustained the gravest injuries from the Qassam attack is reportedly out of surgery and in a stable condition.
2:30PM: Al Jazeera:
Qassam rocket attacks from Gaza are frequent, but rarely cause injuries. The homemade rockets are inaccurate with many falling in open spaces or in the town of Sderot.
Considering that the terrorists are mostly aiming them at Sderot, I would not classify them as "inaccurate." But then again, I'm not the terror-supporting Al Jazeera.
4:00PM: Israeli Foreign Minister Tzipi Livni has confirmed that Israel will use "non-military means" in response to the Qassam attacks – a clear reference to cutting off supplies to Gaza.
She also laid the blame at Hamas' feet, saying "Gaza is entirely
controlled by Hamas. Hamas has the ability to stop it (the rocket fire) and has decided not to do that." But of course Hamas would not stop the rocket fire. They want Israel destroyed just like the next terrorist organization.
4:05PM: From the Get-a-Clue department:
In his first comments on the subject since Tuesday morning's Kassam rocket attack which left 69 soldiers wounded, President Shimon Peres voiced wonder at the Palestinian terror groups' decision to continue with such tactics.

"It makes no sense why they would continue to shoot at us despite the fact that we disengaged from the Gaza Strip," Peres said during a Rosh Hashana toast for foreign diplomats.
Gee, I wonder why they would still be attacking us even after we unilaterally withdrew from Gaza.
Clue: The same reason Hizbullah attacked us after we withdrew from Lebanon.
Further clue: it's not about the land.
Yet another clue: Something about wanting to drive certain people into the sea.
4:30PM: Amos Harel of Ha'aretz contends that Israel's likely mild (lame) response is due mainly to the recent tensions with Syria. In his words "It is Israel's policy at this time not to invest too many resources in Gaza, the source of the Qassam rockets, when these resources could potentially be required should conflict erupt in the north."
Alternatively, the Israeli government has no spine.
5:40PM: While many of our boys lie in hospital, palestinian boys are out handing out sweets in celebration.
By the way, the above photo is (inadvertently) part of the 9/11 Terror Attacks slideshow, which is appropriate, considering what the palestinians got up to after news of the tragedy reached them.
8:36PM: Israel's Channel 10 has reported that Israel will begin cutting off power to Gaza next week.
8:55PM: The inevitable restraint request:
The United States expressed hopes that Israel would show restraint in its response to Tuesday's rocket attack on Zikim army base, which left 67 soldiers injured.

State Department Spokesman Sean Sean McCormack said the US advised Israel to consider the impact its response would have on the peace process.
I think we should show as much restraint as the US would, had it's army base been attacked.
10:12PM: The palestinians have fired 2 more rockets into Israel, with the Salah al-Din Brigades once again claiming responsibility.
11:32PM: The IAF has reportedly struck a Qassam launcher in northern Gaza.
Please help ensure Israellycool can keep going,
by donating one time or monthly