Another quiet evening and early morning, a further sign that perhaps IDF operations against the terrorists, as well as the terrorism-supporting (or at least not terrorism-opposing) population of Gaza, has had an effect. That is not to say that the terrorists have been resting – once again, the IDF arrested 10 wanted palestinian terror suspects across the West Bank last night. And the IAF strike I posted about last night reportedly did wound some terrorists, at least according to some reports.
Across the border, Egypt continued trying to contain the beast it helped unleash. Egyptian police officers forced shopkeepers in the northern Sinai city of El-Arish to close their stores to prevent shopping by palestinians from Gaza, and in more scenes from the theater of the absurd, Hamas-affiliated forces crossed into Egypt to join Egyptian security in urging palestinians to start heading home to Gaza. And if you think that sounds ridiculous, get a load of this: Iran has offered to help Egypt deal with the border chaos.
In other news, Arab MKs plan to attend the funeral of one of the palestinians' most despicable terror leaders, a senior political source has confirmed that Prime Minister Olmert has no clue, Shas has reiterated its threat to quit the government if negotiations over the fate of Jerusalem begin, and the EU wants to throw more money at the PA.
Updates (Israel time)
11:25AM: The Iranian foreign minister has said that Iran is close to resuming full diplomatic relations with Egypt.
12:50PM: Arab foreign ministers are blaming Israel for the deterioration in the Gaza Strip and demanded that Israel immediately lift its blockade. Yeah, I know. It's not really news.
1:10PM: Egyptian Sandmonkey has a post, which although a couple of days old already, is still too important to not mention.
Here's an excerpt:
The people aren't as hungry or suffering as you all claim: A Palestinian-american friend of mine just came back from visiting his grandparents in Gaza ( just jumped over the fence and back he said, no one is controlling the borders apparently), and he was telling me how the entire "they are hungry people looking for food" headline story is a crock of sh*t. He laughingly told me that they are buying motorcycles, mattresses and TV's and other such basic survival needs (the media is confirming it if you think I am lying you big morons), and how some of his family members after going to Al Areesh-on the first day of the "people power" event-for vacation mind you, were like "This is Areesh? This sucks! Gaza is better!" and then went back the next day. He also told me that the price of the AK 47 in Gaza has now dropped to a measly 400 JD's. There is apparently too much supply to the demand. Yay for Open Borders!
By the way, here's some proof of what he's talking about.
Toshiba television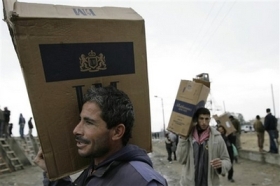 Cigarettes
1:45PM: The Egyptian security forces and Hamas terrorists are still working together to prevent palestinians from getting into Egypt, stringing a barbed wire fence across one of the three breaches in the border. The Hamasholes are probably secretly laying down some explosives for the next time they decide to blow up the border wall.
4:20PM: Iranian Foreign Minister Manouchehr Mottaki has had this to say about Israel:
"Israel is too weak to confront Iran. The leaders of this illegitimate fake regime know well would happen in the region in response to an attack (against us)."
Meanwhile, Uzbekistan News.Net reports:
Iran extends olive branch to Israel and U.S
Lost in translation perhaps?
4:27PM: Egypt has reportedly said it want Abbas' force to control the Gaza border.
7:00PM: Over an hour ago, palestinians fired a mortar round from northern Gaza, which landed by the separation fence near the Kissufim border crossing.
7:05PM: From the Department of Wishful Thinking:
Addressing fears of instability in his party ahead of the publication of the Winograd report on the Second Lebanon War, Ehud Olmert told a Kadima faction meeting on Monday that Kadima still has many years in power left.

"I've been asked a lot what will happen this week. Don't worry – we still have many more years in power," he said, referring to the impending report.
G-d forbid.
8:30PM: Today, the Knesset held a special session to mark International Holocaust Remembrance Day.
This is what Prime Minister Olmert had to say:
"We will not permit ourselves to be complacent to the sounds of voices calling for the obliteration of Israel, which are backed by murderous and jealous ideologies, tyrannical regimes, supporters of terrors and malicious programs to develop weapons of massive destruction."
But we will hand over parts of our land to them, including part of our holiest city, and trust our security with them.
And this is what Opposition leader Benjamin 'Bibi' Netanyahu had to say:
"Anti-Semitism is back in full force. In the past it was confined to the Right, but today you can also find it in the Left as well as among radical Islamic elements sweeping Europe…There are frequent calls for Israel's extermination, yet the world remains silent or says very little."
Meanwhile, the UN plans to commemorate International Holocaust Remembrance Day as follows:
On Monday, the UN General Assembly will hear addresses by survivors of Nazi death camps, including U.S. Congressman Tom Lantos, and a concert by the Tel Aviv University Symphony conducted by Zubin Mehta. The UN plans also to issue a special stamp to mark the day.
It might as well have numbers on it, given that the UN is instrumental in ensuring never again becomes again.
8:45PM: Introducing Ashkenazi Chief Rabbi Yona Metzger's solution for peace in the Middle East:
Ashkenazi Chief Rabbi Yona Metzger has been quoted as calling for Gazans to be transferred to the Sinai Peninsula, to a Palestinian state which he said could be constructed for them in the desert.

In an interview in English with the British weekly The Jewish News, the chief rabbi also said that while peaceable Muslims should be allowed to pray in Jerusalem mosques, they should recognize that Jerusalem belongs to the Jews. Muslims have Mecca and Medina, he was quoted as saying, adding that "you don't need a third place."

Metzger called for Britain, the European Union and the United States to assist in the construction of a Palestinian state in Egypt's Sinai Desert.

According to Metzger, the plan would be to "take all the poor people from Gaza to move them to a wonderful new modern country with trains buses cars, like in Arizona – we are now in a generation where you can take a desert and build a city. This will be a solution for the poor people – they will have a nice county, and we shall have our country and we shall live in peace."

Metzger was quoted as telling the paper that the plan was new and he had not presented it to Prime Minister Ehud Olmert.

"I have thought about it with some wise people only in the last two weeks, and I think it is a great idea – nobody spoke about it before." He expressed his intent to discuss the matter with Olmert and anticipated that the idea would find popularity among Israelis. He prefaced his comments by pointing out that he could not advise on political matters as he is a religious leader in Israel, noting that according to the law he "cannot be involved in political situations."
He seems pretty proud of this idea, despite the fact that it has two chances of succeeding – none and Buckley's. That's not to say it has no merit. After all, if the Gazans lived in the Sinai, they wouldn't have to blow up walls to get access to cheap televisions, cigarettes, and semi-automatic weapons.
8:55PM: Here's video of the recent LSE debate on a motion to brand Israel an apartheid state (hat tip: Solomonia).
8:58PM: Shower time for Omri Sharon will never be the same again.
9:05PM: IDF troops operating in Bethlehem have reportedly arrested Islamic Jihad member Muhammad Aabdo, presumably for something other than having a hard-to-pronounce surname.
10:18PM: Egyptian Bedouin have shown solidarity with their palestinian brethren, and welcomed them into Egypt with open arms.
Well, the arms part is correct. They actually opened fire in the air to warn them away.
10:45PM: Those master media manipulators of Hamas are back at it again, this time presenting themselves as a bunch of generous, gift-giving folks (with the help of a more-than-willing AP):
A Hamas member, right, part of a delegation gives an Egyptian police officer, left, a copy of the Quran, Islam's holy book, as a present at the border crossing in Rafah, southern Gaza Strip, Monday Jan. 28, 2008. Egyptian security forces strung new barbed wire across one of the breaches in the border Monday in a sign that a six-day opening of the frontier may finally be reaching its conclusion. (AP Photo/Tara Todras-Whitehill)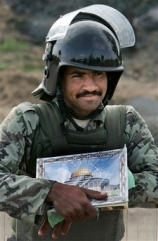 An Egyptian police officer holds a picture of the Dome of the Rock Mosque, located in east Jerusalem's Old City, presented to him as a present by Hamas members, at the border crossing in Rafah, southern Gaza Strip, Monday Jan. 28, 2008. Egyptian security forces strung new barbed wire across one of the breaches in the border Monday in a sign that a six-day opening of the frontier may finally be reaching its conclusion. (AP Photo/Lefteris Pitarakis)
10:54PM: Further to my 1:10PM update, let's not forget the motorbikes (hat tip: LGF).
Please help ensure Israellycool can keep going,
by donating one time or monthly