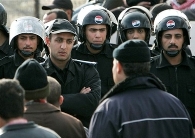 Last night, the IDF captured the Islamic Jihad chief in Bethlehem, after encountering resistance from palestinians throwing molotov cocktails, blocks, and rocks, in yet another sign that many of the "average palestinians on the street" support terrorism. This particular scumbag commanded numerous Islamic Jihad cells, and had been involved in the planning and financing of numerous terror attacks. Elsewhere, the IDF arrested another 17 wanted terror suspects.
Meanwhile, as the terrorists of the PA/Fatah and Hamas fought for control of the Gaza-Egypt border, palestinian President Mahmoud Abbas had already won European, American and Arab backing for PA control.
In other news, a study has shown that the Israeli public has lost a considerable amount of the confidence it used to have in its leadership, this leadership has rejected Labor talk of early elections, US President George W. Bush renewed his call for Iran to stop enriching uranium, while Iran once again stepped up the rhetoric against Israel.
Updates (Israel time)
9:25AM: US President George Bush, in his State of the Union address:
"We are also standing against the forces of extremism in the Holy Land, where we have new cause for hope. Palestinians have elected a president (Mahmoud Abbas) who recognizes that confronting terror is essential to achieving a state where his people can live in dignity and at peace with Israel. Israelis have leaders who recognize that a peaceful, democratic Palestinian state will be a source of lasting security…This month in Ramallah and Jerusalem, I assured leaders from both sides that America will do, and I will do, everything we can to help them achieve a peace agreement that defines a Palestinian state by the end of this year. The time has come for a Holy Land where a democratic Israel and a democratic Palestine live side-by-side in peace."
I couldn't disagree more. Leaving aside the validity of the palestinian "right" to a state in the land of Israel, Mahmoud Abbas is not confronting terrorism, and the palestinians are nowhere near ready for democracy.
11:45AM: As I surmised a few days ago, Israel is going to allow the PA to control the Gaza-Egypt crossing. G-d help us.
1:15PM: Israellycool reader abunafha recently commented here about Saudis teaching the Protocols of the Elders of Zion in their schools. He now found this a few minutes ago on the Israeli Ynetnews site:
2:12PM: UN Watch has asked UN High Commissioner for Human Rights Louise Arbour to clarify a recent endorsement of the Arab Charter of Human Rights, given that it "contains several provisions that promote classically anti-Semitic themes," such as the following sentences:
"rejecting all forms of racism and Zionism, which constitute a violation of human rights and a threat to international peace and security"
"all forms of racism, Zionism and foreign occupation and domination constitute an impediment to human dignity…all such practices must be condemned and efforts must be deployed for their elimination."
2:40PM: Following from the previous update, you might recall this from right after last summer's Second Lebanon War:
Israel could be considered deserving of more blame for its actions in the Lebanon war than Hizbullah, UN High Commissioner for Human Rights Louise Arbour said in an interview with The Jerusalem Post Thursday.

Asked by the Post if there was a distinction under human rights law between missile attacks aimed at killing civilians and military strikes in which civilians are unintentionally killed, Arbour said the two could not be equated.

"In one case you could have, for instance, a very objectionable intent – the intent to harm civilians, which is very bad – but effectively not a lot of harm is actually achieved," she said. "But how can you compare that with a case where you may not have an intent but you have recklessness [in which] civilian casualties are foreseeable? The culpability or the intent may not sound as severe, but the actual harm is catastrophic."
So in other words, it is very likely that Arbour's recent endorsement of the Arab Charter of Human Rights was made with full knowledge of the vehemently anti-Israel /anti-Semitic provisions.
3:08PM: National Religious Party chairman Zevulun Orlev has made calls to put on trial the Arab Knesset members who attended the funeral of PLFP founder George Habash.
He's right.
3:35PM: In yet another worrying example of Arab-israeli disloyalty, Ra'ad Salah, the constipated head of the Islamic Movement in Israel's Northern Branch, has been charged with incitement to violence and racism, over a fiery speech he gave a year ago in which he invoked the blood libel:
"We have never allowed ourselves to knead [the dough for] the bread that breaks the fast in the holy month of Ramadan with children's blood," he said. "Whoever wants a more thorough explanation, let him ask what used to happen to some children in Europe, whose blood was mixed in with the dough of the [Jewish] holy bread…Great God, is this a religion? Is this what God would want? God will deal with you yet for what you are doing."
4:20PM: A Flying Pig moment on the CNN website today, with this appearing on the front page:
In other words, specific mention of the fact that the teenager killed by the IDF was a terrorist.
However, when clicking on the story, the headline was truer to form:

4:50PM: Yet more molotov cocktail lovin' expressed by the palestinians.
6:15PM: Israeli President Shimon Peres Peres has urged world youth to fight anti-Semitism using Facebook. Because we all know, turning anti-Semites into Zombies, or poking them, is much more effective than, say, blogging.
7:57PM: Israeli Prime Minister Ehud Olmert seems to think many people are oblivious to the truth.
"In the south of this country a war is taking place and people in the center do not always feel this or understand it."
Meanwhile, this was Israeli Prime Minister Ehud Olmert, yesterday:
"We [Kadima] still have many more years in power."
The king of oblivious.
9:45PM: A victory of sorts at the UN, with Libya withdrawing its proposal to condemn Israel, thanks to Israel's refusal to compromise on the wording.
Now if only Israel had this same attitude to negotiating with terrorists.
9:48PM: Olmert the lonely?
9:58PM: Hizbullah deputy chief Naim Kassem (no relation to Casey) has threatened to kidnap more IDF soldiers.
10:06PM: Great moments in palestinian protest: Gazan fuel companies are rejecting fuel from Israel to protest the fact that Israel are not providing them with enough fuel. And palestinians stranded in Egypt who say they are lacking basic necessities plan to protest their predicament by going on hunger strike.
Please help ensure Israellycool can keep going,
by donating one time or monthly
Facebook Comments
comments