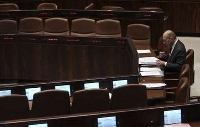 Updated throughout the day. Scroll down for updates and new posts.
It's been raining down here in Israel, and, unlike recent weeks, I am not talking about Qassams. Rather, there has been heavy rainfall and, in some places such as Jerusalem and the Golan Heights, snow. And perhaps it is at least partially due to the weather that I have little to report in terms of terror attacks or IDF operations, except that the IDF arrested a wanted terrorist near the village of Burkin, west of Jenin.
The much anticipated event of today is the release of the Winograd report, a 500-page document reviewing the conduct of the IDF and Israeli government in the years leading up to the Second Lebanon War, as well as their performance during the war. Initial leaks indicate that Prime Minister Olmert may get off lightly, but not so the IDF.
In other news, Egypt has reportedly issued an ultimatum to Hamas to pull back from Egypt dozens of their gunmen (I guess their gifts didn't help), and palestinian President Mahmoud Abbas and a Hamas-delegation led by Khalid Mash'al, are heading to Cairo to hold talks with the Egyptian government about the possibility of reopening the Gaza-Egypt border crossings.
Updates (Israel time)
10:12AM: The Egyptian daily al-Ahram has reported that 5 palestinian terrorists carrying explosives belts and planning a suicide bombing against Israel were recently apprehended by the Egyptian authorities. The newspaper also reported that several other palestinians had tried to bribe Egyptian guards to allow them to cross with explosives without being searched.
In other words, the inevitable is occurring. Bear in mind, that it was Hamas who orchestrated this whole thing, so it stands to reason that terrorists will exploit the situation – the situation was brought about by terrorists.
So there you have it – the palestinians are not merely coming back into Gaza with motorbikes, televisions, and cigarettes.
2:48PM: PA President Mahmoud Abbas to Hamas: We won't talk to you unless you meet certain conditions, including relinquishing control of Gaza and accepting new early elections.
Hamas to PA President Mahmoud Abbas: Talk to the hand.
2:53PM: Senior Israeli Defense officials have stated that Israel and Egypt have made "dramatic progress in terms of closing the breached border at the Rafah crossing."
3:55PM: The Israeli Supreme Court has upheld the government's move to cut fuel and electricity supplies to the Gaza Strip, saying:
"We emphasize that the Gaza Strip is controlled by a murderous terror group that operates incessantly to strike the state of Israel and its citizens, and violates every precept of international law with its violent actions."
Israel will continue to supply enough fuel and electricity to "fulfill the vital humanitarian needs of the Gaza Strip at this time."
4:25PM: The Jerusalem Post reports:
President Shimon Peres on Wednesday revealed that already in 1974 he had asked the US to purchase a space shuttle, Army Radio reported.

According to Peres, when he submitted the request he was subjected to ridicule. However, today, he said, everyone understands the importance of "conquering space."
Spoken like a true space cadet.
4:35PM: Gorilla boy is frothing at the mouth again:
Iranian President Mahmoud Ahmadinejad called on the West Wednesday to acknowledge Israel's "imminent collapse."

Speaking to a crowd on a visit to the southern port of Bushehr, where Iran's first light-water nuclear power plant is being built by Russia, Ahmadinejad further incited his listeners to "stop supporting the Zionists, as [their] regime reached its final stage."

"Accept that the life of Zionists will sooner or later come to an end," the Iranian president said in a televised speech.

He added, "What we have right now is the last chapter [of Israeli atrocities] which the Palestinians and regional nations will confront and eventually turn in Palestine's favor."
That's some olive branch, huh?
5:20PM: At 5:00PM (Israel time), Prime Minister Ehud Olmert and Defense Minister Ehud Barak received the final Winograd report. They are to begin reading the report(if they haven't started already) and at 6:00PM panel chairman Eliahu Winograd will meet with journalists, give a statement (including the main points of the report and general comments on the work of the committee), and will then hand over to committee member Ruth Gavison for a summary of Winograd's address in English.
5:24PM: The Jerusalem Post's Gil Hoffman talks about the report here.
5:30PM: Military sources reportedly don't expect any further personnel changes following publication of the report because "the chief of staff and all the generals in top positions during the war have resigned."
5:33PM: Channel 10 has reported that Olmert is consulting with his lawyers now, and the top brass of the IDF have also received the report.
5:42PM: In what might just be the worst timing in live-blogging history, I need to drive home now due to the risk of snow in my city tonight.
After I get home, I'll bring you up to speed.
7:43PM: Winograd for dummies:
The Second Lebanon War last summer was a missed opportunity for Israel, since "a quasi-military organization withstood the strongest army in the Middle East for weeks."
The final, large-scale ground operation launched in the final 60 hours of the war "did not achieve any military objectives nor did it fulfill its potential," but the decisions behind it were acceptable.
There were severe failures and faults in the decision making process ("in the political and the military echelons and their interface"), failures that "began long before the Second Lebanon War"
You can read more here in the official statement detailing the Winograd Committee's announcement on their Final Report.
Other links:
8:05PM: Here's a copy of the report for the Hebrew speakers amongst you (second link).
Note that it doesn't include "the many facts that cannot be revealed for reasons of protecting the state's security and foreign affairs."
8:25PM: Reactions to the report:
Israeli Prime Minister Ehud Olmert:
I have "complete faith in the IDF, in its commander, in its soldiers and in its abilities."
Kadima Minister Ruhama Avraham-Balila:
"The opposition's attempt to find flaws in the decision making process has received a crushing response in Winograd's remarks. The opposition must apologize to the public, the prime minister and the bereaved families."
Likud (Right):
"Olmert must accept personal responsibility and resign. (Defense Minister Ehud) Barak, who promised to leave the government upon the publication of the final report, should keep his promise. If the defense minister searched for an excuse in the report not to resign, he did not find one."
Meretz (Left) chairman Yossi Beilin:
"The Winograd Commission's final report reinforces the impression that critical decisions for the future of Israel were made without using judgment and without understanding their potential outcomes. If the prime minister understands that he bears personal responsibility, the only conclusion is not that he is the only one who can amend his mistakes, but that he must resign."
National Religious Party chairman, Zevulun Orlev:
"The ruling regarding major failures by both the government and the IDF in running the war, demand that Olmert follow in (former Defense Minister Amir) Peretz and (former IDF Chief of Staff Dan) Halutz's footsteps. If Olmert evades personal responsibility, then the defense minister must honor his promise and dissolve the government."
"The report confirms what was known by Hizbullah for a long time: Israel completely failed in achieving its goals and the Israeli military suffered a defeat."
8:35PM: More reactions:
Aides to former Defense Minister Amir Peretz:
"Everyone knows now that he was acting responsibly and consistently and many people owe him an apology."
MK Chaim Oron (Meretz-Yahad):
"The sigh of relief coming from Olmert's office is uncalled for… he has nothing to celebrate, since he was largely a part of these failures."
Likud MK Silvan Shalom:
"This is a serious indictment that constitutes an earthquake in the political echelon. The report found grave failures and faults, that alternatives were not examined, nor was the readiness of the army or home front."
Likud MK Yuval Steinitz:
"This is the most severe report in the state's [history]. It says the prime minister conducted a war in a failed, negligent, and amateur manner like never before."
"Wot, me worry?"
8:52PM: Tomorrow will be "snow day" in Jerusalem.
8:55PM: Egyptian police shot dead two migrants from the Ivory Coast as they tried to enter Israel illegally overnight. But had they been terrorists carrying explosives belts and planning a suicide bombing in Israel, they would have merely been apprehended (per the 10:12AM update).
9:10PM: Via an LGF reader, an important piece from Daniel Pipes: Give Gaza to Egypt
Excerpt:
Washington and other capitals should declare the experiment in Gazan self-rule a failure and press President Hosni Mubarak of Egypt to help, perhaps providing Gaza with additional land or even annexing it as a province. This would revert to the situation of 1948-67, except this time Cairo would not keep Gaza at arm's length but take responsibility for it.

Culturally, this connection is a natural: Gazans speak a colloquial Arabic identical to the Egyptians of Sinai, have more family ties to Egypt than to the West Bank, and are economically more tied to Egypt (recall the many smugglers' tunnels). Further, Hamas derives from an Egyptian organization, the Muslim Brethren. As David Warren of the Ottawa Citizen notes, calling Gazans "Palestinians" is less accurate than politically correct.

Why not formalize the Egyptian connection? Among other benefits, this would (1) end the rocket fire against Israel, (2) expose the superficiality of Palestinian nationalism, an ideology under a century old, and perhaps (3) break the Arab-Israeli logjam.
9:13PM: An M-16 rifle has been stolen from a soldier in Tel Aviv.
10:06PM:  According to a Channel Two poll:
56% of Israelis think PM Olmert should quit
27% said he should stay in office
45% believe Defense Minister Ehud Barak should resign
41% think he should remain in his role
Support more stories like this.