The following two tabs change content below.
An Aussie immigrant to Israel, Aussie Dave is founder and managing editor of Israellycool, one of the world's most popular pro-Israel blogs (and the one you are currently reading) He is a happy family man, and a lover of steak, Australian sports and girlie drinks
Latest posts by Aussie Dave (see all)
Can't you just feel the rage?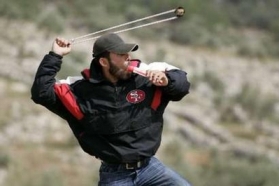 A Palestinian protester eats an ice-cream and uses a sling shot at Israeli soldiers during a protest against Israel's security fence in the West Bank village of Bilin April 4, 2008. REUTERS/Baz Ratner (WEST BANK)
And the popsicle of violence continues..
Update: Brian is also amused.