Can't you just feel the rage?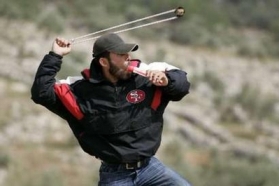 A Palestinian protester eats an ice-cream and uses a sling shot at Israeli soldiers during a protest against Israel's security fence in the West Bank village of Bilin April 4, 2008. REUTERS/Baz Ratner (WEST BANK)
And the popsicle of violence continues..
Update: Brian is also amused.
Please consider a donation. Besides the work we do - which includes scoops, exposing the haters and posting original and entertaining content - this blog takes up not just a lot of time but also money. Your support is appreciated.