Click refresh to see new updates during the day
UNIFIL has said that the ammunition that exploded in a southern Lebanon village was a "serious violation" of the UN-brokered ceasefire that ended the Second Lebanon War in 2006.
I guess this means UNIFIL will now intensify its efforts to beg Hizbullah to stop such activities.
Updates (Israel time; most recent at top)
9:45PM: Palestinians fired a Qassam into Israel earlier this evening.
8:25PM: And it's time for the daily Maccabiah Games roundup, starring those presenters who are more wooden than Pinnochio.
And it's no coincidence. Through a bit of detective work, I've worked out why their presenting skills stink worse than these guys.
They are models. Introducing Mel Rose and Ben Kaplan.
I dunno. I think I'd prefer this guy to present.
(As an aside, on what other blog could you possibly learn such a useless bit of trivia and yet feel so enriched?)
6:03PM: Ha'aretz reports:
A newly released collection of anonymous accusations of alleged human rights abuses by Israeli soldiers in Gaza has prompted reservists who served there to deliver signed, on-camera counter-testimonies about Palestinian terrorists' use of Gazans as human shields.

The dozen English-language testimonies were delivered in response to a report by Breaking the Silence, an organization which says it is attempting to collect accounts by Israel Defense Soldiers in order to expose "moral corruption" within the IDF, as explained in the movement's Website.

The accusations were made by anonymous people who said they were reserves soldiers, and whose faces were blurred in filmed talks. Some recounted hearing from other soldiers that the IDF used Palestinians as human shields during Operation Cast Lead in January. Others said they recalled destroying Palestinian property.
The testimonies countering the war crimes claims are found on this new site: Soldiers Speak Out.
1:50PM: Fascinating report on "palestinians" of Jewish origin.
9:40AM: Most potentially misleading headline of the day, comes courtesy of Ynet:
Blind men can feel their dates
'Nuff said.
9:20AM: A group of Charedim (badly translated as"ultra-Orthodox" Jewish people) have been rioting following the arrest of one of their women suspected of starving her 3-year-old son. And the riots have spread to my home city of Beit Shemesh.
It is important to note that the woman involved – and presumably the rioters – are members of the Neturei Karta sect, which you may recall as being the vehemently anti-Israel group of pretend Orthodox Jews who canoodle with the likes of Mahmoud Ahmadinejad and other terrorist leaders, while calling for Israel's destruction.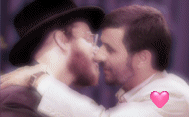 This is the photo that is currently on the Ha'aretz site, and which is related to the corresponding story on the latest riots.
These people are a disgrace, and are almost universally hated by all other Jewish Israelis.
6:08AM: George Galloway, and his bunch of merry Israel haters, have arrived in Gaza.
[Warning: Viewing may cause nausea]
If only at 0:33 we'd seen Galloway realizing a dog had relieved itself.
5:50AM: Here's footage from seven months ago showing Hizbullah terrorists entering and exiting an underground facility used for terror activity in direct violation of UN Resolution 1701 (via Ha'aretz).
Please help ensure Israellycool can keep going,
by donating one time or monthly
Facebook Comments
comments