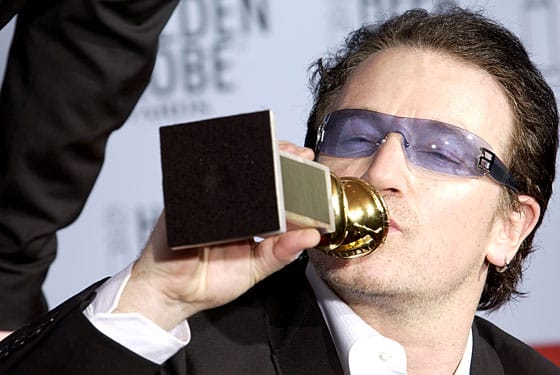 In a guest op-ed in the New York Times, U2 frontman Bono has compiled a list of Ten for the Next Ten – 10 ideas that might make the next 10 years more interesting, healthy or civil.
Not surprisingly, one of his ideas involves Israel.
Here's something that could never have happened in the Naughts but will maybe be possible in the Tweens or Teens — if there's a breakthrough in the Mideast peace process. The idea is an arts festival that celebrates the origin of the three Abrahamic religions: Judaism, Christianity and Islam. Every year it could be held in a different location; Jerusalem would obviously be the best place to start.

In Ireland, at the height of the "Troubles," it was said that the only solution for rabid sectarianism was to let 1,000 punk-rock bands bloom: music helped create a free space for dialogue (of a high-volume variety). So no politicians allowed. Artists only.
I hate to burst Bono's bubble (say that quickly ten times), but it's called the Festival of Festivals, and it has been held in Haifa for the past 16 years.
16th Festival of Festivals in Haifa

THE COLORFUL FESTIVAL

Which promotes coexistence and peace, celebrtaes the December festivals of the three monotheistic religions with a wide range of cultural and artistic events on 5, 12, 19 and 26 December.

The colorful Festival of Festivals, now in its 16th year, takes place every weekend in December in Haifa's mixed Arab-Jewish Wadi Nisnas neighborhood. The festival promotes good neighborly relations, with cultural and artistic events that celebrate the three main religious festivals that fall in December – Chanuka, Christmas and Eid al-Adha.
About the Author
An Australian immigrant to Israel, Aussie Dave has been blogging since early 2003.
Filed Under: General