According to senior defense officials, the US is considering storing in Israel some of the equipment and ammunition that is pulled out of Iraq.
Ahead of the United States's planned withdrawal from Iraq, American military teams have visited Israel to consider the possibility of storing some of the equipment and ammunition that is pulled out in special storage centers at various locations here, according to senior defense officials.

According to the officials, the Americans plan to leave a significant amount of equipment in Iraq to assist local security forces. Additional equipment, though, would be transferred to Afghanistan as well as possibly to Jordan, Egypt and Saudi Arabia.

A security agreement between the United States and Iraq calls for withdrawal of all US forces by the end of 2011. The equipment that Israel might receive, one official said, is ammunition, vehicles, and a specially designed rapid cannon – called C-RAM – that can intercept small projectiles such as mortars.

"There is talk that some of the equipment will be stored in Israel," the official said. "If that is the case, in the event of an emergency we may be able to use it."

Last month, Defense News reported that the Pentagon had decided to double the value of emergency military stockpiles it stores in Israel to the value of $800 million. Defense officials said that this was a separate move, not connected to the withdrawal from Iraq.

The US already maintains several stockpiles in Israel that include missiles, armored vehicles, aerial munitions and artillery ordnance. The US began stockpiling equipment in Israel in the early 1990s.

The new deal, according to Defense News, was signed by Brig.-Gen. Ofer Wolf, head of the IDF's Logistics and Technology Branch and Rear-Adm. Andy Brown, logistics director for the US Military's European Command (EUCOM).

"Officially, all of this equipment belongs to the US military," the official said. "If however, there is a conflict, the IDF can ask for permission to use some of the equipment."

The last time this happened was during the Second Lebanon War in 2006 when the IDF received access to US stockpiles and also received shipments of weaponry, particularly smart bombs from the United States.
Updates (Israel time; most recent at top)
11:40PM: Do you remember the moron who claimed Israel went to Haiti, not to help but to harvest organs?
As ludicrous and unsubstantiated as his claims are, there are those who think Israel needs to investigate.
You know, just to be sure.
Baroness Tonge, the Liberal peer, said this week that Israel should set up an inquiry to disprove allegations that its medical teams in Haiti "harvested" organs of earthquake victims for use in transplants.

Her call has been sharply criticised by fellow LibDems, but party leader Nick Clegg has refused to act against her.

The organ theft claims were published last week in the Palestine Telegraph, an online journal based in Gaza of which Baroness Tonge is a patron.

In a statement to the JC, she said the Israel Defence Forces were "to be commended for their fantastic response to the Haitian earthquake".

But she added: "To prevent allegations such as these — which have already been posted on YouTube — going any further, the IDF and the Israeli Medical Association should establish an independent inquiry immediately to clear the names of the team in Haiti."

Ed Fordham, the Lib Dem candidate for Hampstead and Kilburn, said: "It's abhorrent that anyone should suggest that something as perverse and sick as this should be investigated."

Monroe Palmer, chairman of Liberal Democrat Friends of Israel, added: "Whilst I welcome Tonge's approval of Israeli actions in Haiti, she is misguided to call for any investigation. On this basis, there could be calls for an investigation to discover the 'truth' in the The Protocols of the Elders of Zion."

Matthew Harris, Lib Dem parliamentary candidate for Hendon, called it "perverse in the extreme to suggest that there needs to be an investigation of allegations to which she gives no credence".

Baroness Tonge's position on Israel has in the past caused embarrassment to the Liberal Democrats, but leader Nick Clegg has consistently refused to discipline her.

A spokesman for Mr Clegg said neither Baroness Tonge nor the Lib Dem leader gave the allegations "any credence whatsoever. We do not believe there is a need for an investigation and we understand why the idea would be offensive to the Jewish community".

An Israeli Embassy spokesman dismissed the allegations as "not fit to grace even the sickest of publications".

The allegations came in an article titled Focus on Israel: Harvesting Haitian Organs by an American researcher, Stephen Lendman, who accused Israel of a "crime against humanity".

Mr Lendman referred to a "damning" YouTube video cited by Al Manar, the pro-Hizbollah Lebanese TV station. The video offers no evidence to support the claims against Israel. It has a warning from 'T West', a member of an American group, AfriSynergy Productions, that Haitians should be careful because the "IDF has participated in the past in stealing organ transplants [sic] from Palestinians and others".

Sameh Habeeb, the Palestine Telegraph's founding chairman, said that Mr Lendman's article represents "him and his views. Some people believe in this and some don't".
But this should come as no surprise. Jenny Tonge is a known Israel hater anti-Semite, having featured on Israellycool on numerous occasions for things like stating she would consider becoming a suicide bomber if she were a palestinian.
8:18PM: Scene from the "world's largest concentration camp".
A Palestinian man takes his horse into the water of the Mediterranean Sea, in Gaza City, Thursday, Feb. 11, 2010. (AP Photo/Hatem Moussa)
Interestingly enough, I don't recall ever seeing in those countless black and white pictures Jewish concentration camp inmates with their horses.
Meanwhile I can't resist posting this again, as I did last time we saw Gazans horsing around.
5:20PM: It has been cleared for publication that the Shin Bet thwarted a Hamashole attempt to kidnap a soldier in order to use him as a bargaining chip
As part of a joint IDF-Shin Bet operation, carried out during the negotiations for the return of captive soldier Gilad Shalit, two Hamas members were arrested on the Israel-Gaza border while trying to smuggle explosives, counterfeit money, a pistol and a silencer into Israel.

One of the terrorists planned to kidnap an Israeli soldier while the other was caught in possession of two explosive devices, which he planned to plant in crowded locations inside Israel.

Salman Abu Atik was apprehended by an IDF force on December 12, 2009 while he was trying to infiltrate Israel along with four other Palestinians. The 43-year-old Hamas man was in possession of $15,000 in counterfeit bills when he was nabbed. A day later, soldiers found a silencer that Abu Atik also tried to smuggle into Israel, and he later turned in a gun he had tried to smuggle as well.

During his interrogation, Abu Atik admitted that he wanted to kidnap and then murder an Israeli soldier in order to use him as a bargaining chip during negotiations on a prisoner swap. He said another Hamas member, Ibrahim Zuara, was supposed to infiltrate Israel with two explosives devices and assist him in the operation.

Zuara was arrested on December 31 while in possession of the explosives. He told investigators that he had planned to plant the devices in crowded locations in Israel within 10 days of his entry to Israel. He also admitted that he was supposed to help Abu Atik kidnap and murder an Israeli soldier on Hamas' behalf.

Abu Atik was recently indicted for attempted murder, conspiracy to commit murder, infiltration, illegal military training, weapons violations and contacting a foreign agent. Zuara was charged with attempted murder, attempted kidnapping with the intent to murder and extort, weapons violations and other offenses.
Here's a photo of the two Hamasholes. As you can see, modelling was never going to be a viable career choice for them.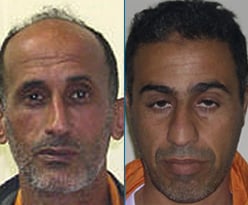 3:28PM: It's reaper time!
The Israel Air Force on Thursday attacked a terror cell planning an attack near the Karni humanitarian aid crossing in the northern Gaza Strip, the IDF said.

Fares Ahmed Jaber, a "Global Jihad operative", was killed in the air raid, an IDF spokesman said.

Jaber, a 26-year-old Gaza City resident, was involved in firing rockets at Israeli communities in the southwestern Negev desert over the past few months, the army said.
11:30AM: When Gorilla Boy speaks to the Dorktator on the phone, they don't exactly talk about the weather.
Iran's President Mahmoud Ahmadinejad told his Syrian counterpart that Israel should be resisted and finished off if it launched military action in the region, state broadcaster IRIB reported on Thursday.

"We have reliable information … that the Zionist regime is after finding a way to compensate for its ridiculous defeats from the people of Gaza and Lebanon's Hezbollah," he told Syria's Bashar al-Assad.

"If the Zionist regime should repeat its mistakes and initiate a military operation, then it must be resisted with full force to put an end to it once and for all," Ahmadinejad said in the telephone conversation on Wednesday evening.
6:00AM: Photo of the day:
A Lebanese police officer, left rear, stands guard as protesters from a leftist group hold hands to block the entrance of Starbucks coffee shop during a protest in Beirut, Lebanon, Wednesday, Feb. 10, 2010. Demonstrators tried to block the entrance of the shop, shouting anti-Israel slogans and causing customers inside to flee. The protesters said they targeted the store because they claim that Howard Schultz, the company's CEO, chairman and president, donates money to the Israeli military. (AP Photo/Grace Kassab)
It looks like the AP caption writer missed a small detail in describing the events captured in the photo.
But what's a little trampling on the Star of David between friends.
More on the protest here.
Please help ensure Israellycool can keep going, by donating one time or monthly