On Friday, palestinian protesters decided to try a new tactic against Israel: they painted themselves blue and posed as characters from the hit film "Avatar."
The demonstrators also donned long hair and loincloths Friday for the weekly protest against the barrier near the village of Bilin.

They equated their struggle to the intergalactic one portrayed in the film.
I must admit, there is one similarity that comes to mind – the Navi is a fictional nation that never really existed. You get my point.
Then again, I don't seem to recall the Navi bringing up their children on a diet of incitement and hate, attaching bomb vests to their children, or firing missiles into schools and nurseries.
At least it's good to know that despite their abject poverty and "concentration camp" like conditions, the palestinians can still afford to go to the cinema. Heck, that they have cinemas.
Update: Navi or not Navi, there's still a Darwin Award to be won.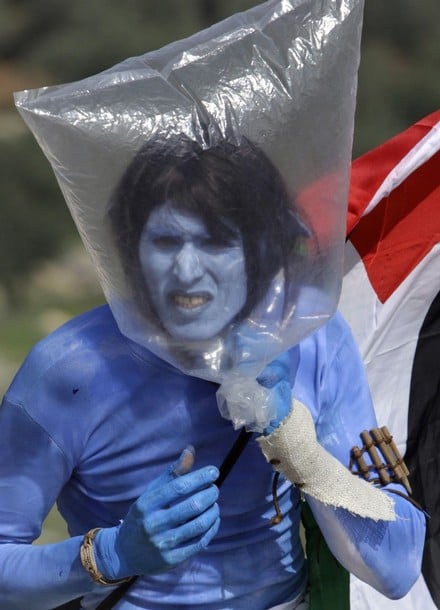 Naqba Dwarf adds: Damn them for not contacting me! I had just the costume in mind.