"Bil'in news and activities became known in the world…what happens in the village is a model for contemporary nonviolent popular resistance."
– Rajmohan Gandhi, grandson of Mahatma Gandhi, last week
Yesterday: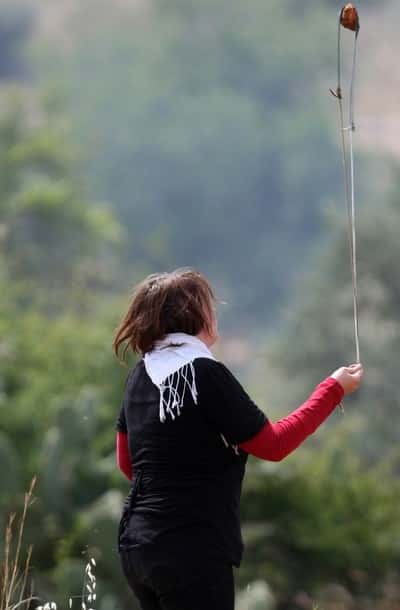 Call me old fashioned, but I would have thought "non-violent" means refraining from throwing hard objects capable of causing damage to other people (if you have been hit by a rock slung at you at high speeds, or know someone who has been, you'll know what I'm talking about).
Note also that the person slinging the stone is a foreign "activist," likely from the ISM or similar group which espouse "non-violent" resistance. You may want to bear that in mind next time you hear about them being deported from Israel, and their claims that this is unfair since all they were doing was helping palestinians without engaging in any violence or otherwise hindering IDF troops.
Please help us get the word out. Your support is appreciated.