Egypt's Ambassador to Israel Yasser Rida is optimistic when it comes to the prospects of peace between Israel and the palestinians:
Rida spoke at Tel Aviv University in honor of 31 years to the Egypt-Israel peace treaty. In a conversation with Ynet at the event, he said, "If there is political will, Israel and the Palestinians can achieve peace within one year."
I wonder when he thinks real peace between Egypt and Israel is possible.
Updates (Israel time; most recent at top)?
8:14PM: A PA cleric has warned palestinian parents that they shouldn't instill fear in their children by threatening them with such evils as monsters, thieves, demons and Jews.
Not necessarily in that order.
OOOGA BOOOGA!
3:08PM: Following yesterday's post on our Zionist Traffic Lights of DeathTM, there are those who claim that one way has considerably more vehicular traffic than the other and there's really nothing more to it than that.
But as this photo from the palestinian territories shows, the traffic lights are indeed racist.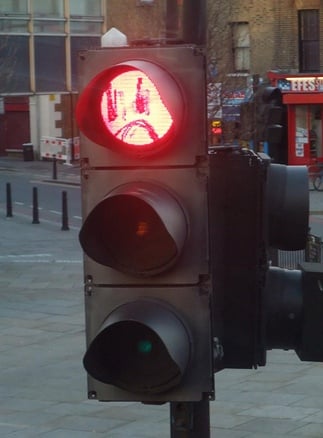 And yes, I am joking. But there are unfortunately many people who would readily believe it
1:32PM: According to the Arabic-language daily Al-Hayat, US President Barack Obama told Mahmoud Abbas that he was committed to seeing the creation of a sovereign palestinian state within two years.
11:50AM: The Knesset yesterday agreed to again consider a draft resolution recognizing the Armenian genocide at the hands of the Turks.
The Knesset decided by 12 votes to 8, with one abstention, that one of its standing committees will discuss the resolution and determine whether it should be put to a full parliament vote.

Speaker Reuven Rivlin was among those who voted for the decision. Significantly, a representative of Israeli Prime Minister Benjamin Netanyahu also backed a parliament debate on the bill drafted by Haim Oron, the leader of the left-wing opposition Meretz party.

—-

The Defense Committee did not even vote on the Armenian genocide resolutions in the past, despite clearance from the Knesset. It thus highlighted successive Israeli governments' reluctance to antagonize Turkey, a rare Muslim partner of the Jewish state.

The Netanyahu government did not back a parliament debate on Armenian genocide recognition on the previous occasion, in May 2009. Commentators might link the apparent shift in its position on the highly sensitive issue to recent months' worsening of Turkish-Israeli relations.
Member of the Knesset Chaim Oron stated:
"It's important for us to make the Israeli people, Knesset in this case, recognize the tragedy of another nation. The Armenian nation needs us to be in the number of those parliaments which overpass 20, and which have recognized the fact of the Genocide"
And this is what MK Dov Khenin had to say:
"We, more than anyone else, can understand the pain of another nation, who has been committed to mass exterminations. Recognizing is our moral duty."
9:42AM: Salman Masalha posits (in Ha'aretz) that the Israeli Arab MKs recent trip to Libya exposes their wretchedness.
Excerpt:
After a meal offered by their host came the groveling speeches, which included all the tired old slogans and the superlatives that despots of the lowest kind expect to hear about themselves. Outdoing everyone was MK Talab al-Sana, who asked the tyrant whether Libya would open its universities to Arab students from Israel. And his wish was immediately granted.

Instead of concern for schools and education here, al-Sana wants to send students to Libya. But this orotund and energetic legislator did not say where he is contemplating sending these students, or what he expects them to learn there. Perhaps to the Libyan Institute for Nano-Embroidery, or the Libyan Academy of Barbecuing Science?

After the flattery, the great leader, His Majesty the King of Kings and Emperor of Emperors, reportedly sat his guests down and gave them two solid hours of his infantile theories. He urged them, inter alia, to take two, three or four wives each, and to have lots of children. Not one of them had a word to say in reply.
Of course, I don't agree with the entire piece, but he raises some valid points.
6:12AM: US Secretary of Defense, Robert Gates and Israeli Defense Minister Ehud Barak respond to a blunt question from Gil Tamary of Israel's Channel 10.
6:08AM: Palestinians have accused Egypt of deliberately killing palestinians inside a smuggling tunnel under the Gaza-Egypt border.
Toxic fumes killed four Palestinians and injured six inside a smuggling tunnel under the Gaza-Egypt border on Wednesday evening, medics reported.

It was not immediately clear what type of gas was used. Medics are accusing Egyptian forces of spraying a chemical into the tunnel as part of a crackdown on smuggling.

One of the victims was identified as Muhammad Abu Jamous. He was among four pronounced dead on arrival at Abu Yousef An-Najjar Hospital in Rafah, our correspondent reported from the scene. Six others were injured after inhaling gas inside a tunnel, medics said, blaming Egypt.

Gas might have been used in the same tunnel days earlier, officials said.

"Workers said they were on their way to one of the tunnels filled with poisonous gas a week ago, to confirm the toxin had dissipated," Adham Abu Salmiya, spokesman for Gaza medical services, told Ma'an. "They were shocked to find it had actually remained in the tunnel, resulting in the deaths and injuries."

Other news reports stated that Egypt blew up a tunnel and the victims died of smoke inhalation.
Meanwhile, not a word of condemnation from so-called pro-palestinian activists such as Free Gaza and the ISM, who nevertheless found the time to blog about alleged Israeli indiscretions.
6:02AM: Looks like someone is trying to smuggle something from under their shirt to their relative.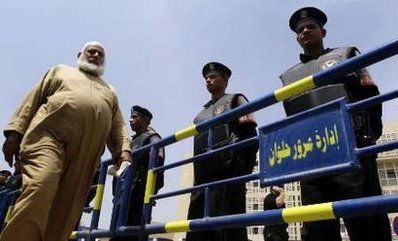 ******************************************************************************************
Want to learn how to shoot with top Israeli anti-terror experts? Click here for more details.
******************************************************************************************
Please help ensure Israellycool can keep going,
by donating one time or monthly