The UN Security Council has sprung into action.
To condemn Israel's actions yesterday of course.
Members of the United Nations Security Council on Monday urged Israel to lift its economic blockade of the Gaza Strip, in an emergency session to discuss the deadly Israel Navy raid on a convoy of international activists sailing to the coastal territory.

Assistant Secretary-General Oscar Fernandez-Taranco said in his briefing to the UN's most powerful body that Monday's bloodshed would have been avoided if repeated calls on Israel to end the "counterproductive and unacceptable" blockade of Gaza had been heeded.

Palestinians and Arab nations used the forum of the emergency session called by Turkey to call for condemnation and an independent investigation into the incident which left at least nine international activists dead. Most members of the 15-nation body joined the call for an investigation.

Many council members echoed earlier statements by their governments in denouncing or criticizing the Israeli action, and said it was time for Israel's three-year-old blockade of Hamas-controlled Gaza to be fully lifted.

Turkey's Foreign Minister Ahmet Davutoglu called the raid murder conducted by a state and demanded an immediate Israeli apology, an urgent inquiry, international legal action against the authorities and perpetrators responsible, and an end to the Gaza blockade.

Following a 90-minute open meeting, the council went into closed-door consultations. Diplomats said envoys were negotiating the text of a proposed statement by the council.
Think about this for a second. A flotilla heading towards Gaza, which refuses to allow Israel to check the contents of their ships and generous offer to pass on the humanitarian supplies to Gaza, is subsequently found to contain weapons and people who have no compunctions about using them against IDF soldiers sent to intercept the ship. And this shows that the restriction of people and supplies into Gaza should be lifted?
Meanwhile, the Europeans are also acting true to form.
Sweden summoned Israel's ambassador to explain the circumstances of the incident. Two Swedish citizens were on board the seized ship.

The European Union demanded an inquiry into the incident, with member nations voicing their own individual calls on the matter over the course of the day.

Germany, one of Israel's most loyal allies, expressed shock at the deadly interception and questioned whether the action by Israeli commandos was proportionate.

Two members of the Bundestag lower house of parliament were among five Germans on board the ships, the foreign ministry said.

"The German government is shocked by events in the international waters by Gaza," government spokesman Ulrich Wilhelm told a regular news conference, adding the government was seeking further clarification about the incident.

"Every German government supports unconditionally Israel's right to self defense," said Wilhelm. But he added that Israeli actions should to correspond to what he described as the "basic principle" of proportionality.

"A first look does not speak in favor of this basic principle being adhered to," he said. Berlin would await further details before judging the incident, he added.

Italy also condemned the killing of civilians during Israel's storming of the aid flotilla as "very grave" and asked for an EU investigation to ascertain the facts.

"I deplore in the strongest terms the killing of civilians. This is certainly a grave act," said Foreign Minister Franco Frattini.

Referring to the European Commission, he said it was "indispensable that there be an inquest to ascertain the facts, which are still not clear."

He also said he had asked the Israeli ambassador for clarification and hoped that it would not hurt efforts on the part of Israel and Turkey to cooperate in the search for Middle East peace.

Britain said on Monday that it was in urgent contact with the Israeli government to establish the facts about the interception of the Gaza flotilla while it "deplored" the loss of life in the incident.

"We have consistently advised against attempting to access Gaza in this way because of the risks involved," Foreign Secretary William Hague said in a statement.

"But, at the same time, there is a clear need for Israel to act with restraint and in line with international obligations," he added.

Hague said Britain had asked Israel for more information and urgent access to any British nationals involved.

"It would be important to establish the facts about this incident and especially whether enough was done to prevent death and injuries," said Hague.
Updates (Israel time; most recent at top)?
11:54PM: Free Gaza – the true story.
8:58PM: According to Israel's Channel 2, some of the "activists" were mercenaries who were paid before boarding the ships to confront Israeli soldiers.
8:54PM: Israeli ambassador to the US Michael Oren is currently talking with Fred Thompson about the flotilla incident. Listen live here.
8:32PM: So many anti-Israel protester photos to make fun of, so little time.
If you are going to equate Israel with Nazis, at least learn how to draw a swastika.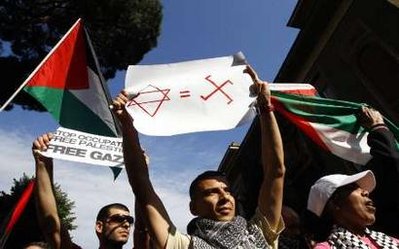 Don't look now but someone is ready to congure us.
This gentleman looks one virgin short of a Muslim afterlife (actually, I think he's the same guy seen knifing himself earlier today at 4:18PM).
8:16PM: There's a few things in life that are certain. Death, taxes and media bias from the BBC.
8:15PM: Prime Minister Binyamin Netanyahu comments on the flotilla incident.
6:40PM: Via PMW comes this proof that the flotillarists were planning on using violence all along: Dr. Abd Al-Fatah Shayyeq Naaman, lecturer in Shari'ah law at a university in Yemen and dead ringer for Mahmoud Ahmadinejad with a beard speaking with Hamas TV.
6:28PM: Another harrowing account by one of the Israeli navy commandos.
The Israel Navy commandos who on Monday raided a flotilla bound for the Gaza Strip with humanitarian aid had no choice but to defend themselves against the violent activists, a captain of the elite marines unit who carried out the operation said Tuesday.

"We knew there would be resistance, but not at such a strong level," said Captain R., who led one of the teams and was wounded in the mission. "Every [activist] that approached us wanted to kill us."

Captain R. was the second commando to be dropped from a military helicopter onto the Turkish-flagged ship. During the mission, a large mob of the activists hurled him from the upper to lower deck of the ship.

From the Rambam Hospital in Haifa, Captain R. said that every commando who entered the ship was met by a number of activists who charged at the soldiers and attacked them. At least 75 percent of the activists took part in what the soldiers later described as a "lynch."

"I was the second to be lowered in by rope," said Captain R. "My comrade who had already been dropped in was surrounded by a bunch of people. It started off as a one-on-one fight, but then more and more people started jumping us. I had to fight against quite a few terrorists who were armed with knives and batons."

The captain said that he was first forced to cock his gun and shoot once when one of the activists came toward him with a knife.

"At that point, another twenty people starting coming at me from every direction," said Captain R. "They jumped at me and hurled me to the deck below the bridge. Then I felt a stabbing in my stomach – it was a knife. I pulled it our and somehow managed to get to the lower level. There, was another mob of people."

The unit had seized control of the ship by that point, save for the lower-most level. "Another soldier and I managed to get out of there and jump into the water."

The commandos had been well-prepared for the mission, said the captain, and had taken into account that the activists might respond with violence. "We thought it would be passive resistance, maybe verbal, but not at such strength," he said.

Despite the tragic results, the captain said he felt his soldiers had operated in a justified fashion. "We worked in an outstanding way, with the values that were instilled in us," he said. "We only turned our weapons against those who put us in danger."
6:16PM: Interesting Fox News discussion on the crisis.
6:06PM: 2 more flotilla ships are planning to sail to Gaza.
Yeah, good luck with that.
5:32PM: Law Professor Julian Ku states emphatically that the IDF raid on the flotilla was not piracy.
4:18PM: Weird protester of the day: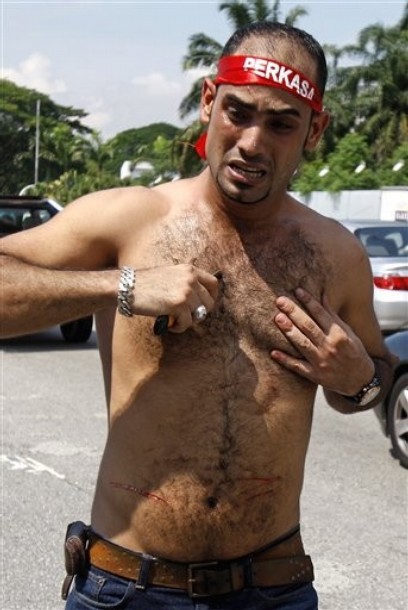 What is his point? That the knives used by the "flotillarists" were harmless?
I'm looking forward to him firing a gun at himself next.
2:44PM: For those of you (like me) who were wondering why the IDF didn't disable the boats:
The possibility of stopping "Marmara," the largest vessel in the flotilla, because of its size, strength and speed, was considered. But doing this by stopping its engines was rejected because the tow to the shore would be too long. There were also fears that those on the boats would be left without water or food.
How ironic that Israel rejected this option partly due to humanitarian concerns.
Meanwhile, this from the same report:
The officer said that the two pistols were snatched from IDF troops and were found on the bodies of those killed. They were without bullets because they had been fired
2:40PM: Via my Contact Form:
willie wrote:
Just a short message…..ALL ISRAELI'S ARE THE SCUM OF THE WORLD.
So short, yet he still couldn't spell correctly.
2:34PM: Via Second Draft comes this example of bad reporting of the flotilla incident.
12:20PM: Take that Turkey!
12:16PM: The blog of activists in Britain's Conservative party has come out in support of Israel:
When William Hague released his first statement about the confrontation this morning we didn't know a lot about what had happened.  With growing evidence that the conflict was driven by a violent attack on Israeli soldiers by the "peace activists" on the boat, he needs to issue a new statement that better reflects that reality.

While it is reasonable that the statement earlier today talks about discovering "whether enough was done to prevent deaths and injuries", it does not properly balance that with a condemnation of attempts to force the Israeli Defence Force to use lethal force.  And it does not reflect the evidence that the soldiers were responding to a clear threat to their lives.

Hague's current statement, despite the diplomatic language, is unfair on Israel and needs to be replaced.  By suggesting that Israel is diplomatically isolated, it will encourage Turkey in actions that would constitute a massive escalation, such as sending new ships under guard from the Turkish navy.  That would be incredibly dangerous and very much against Britain's interests.

The evidence emerging suggests four important considerations that should inform a new statement:

The activists on the boat were preparing for violence and described martyrdom as a "happy ending"
The soldiers were seriously assaulted
This was not "piracy" or anything of the sort
The Israelis main mistake may have been to use insufficient force initially
Read the whole thing.
10:30AM: An IDF soldier describes the peaceful reception received by him and his comrades after boarding the Mavi Marmara.
10:22AM: Australia has joined the chorus of nations condemning Israel's use of self defense aboard the flotilla vessel yesterday.
Prime Minister Kevin Rudd has condemned the use of violence during a deadly raid by Israeli commandos, and called for the blockade of Gaza to be lifted.

At least nine people died on Monday when Israeli forces attacked a humanitarian flotilla on its way to the Palestinian territory.

''The Australian government condemns any use of violence under the sorts of circumstances that we have seen,'' Mr Rudd told reporters in Canberra today.

''Furthermore, we are deeply concerned about the loss of life which has occurred.''
7:25AM: Some of the weapons found on board the Mavi Marmara flotilla ship yesterday.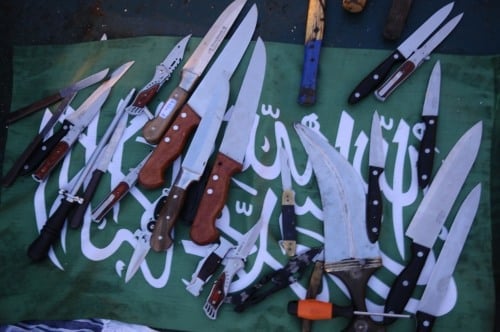 Looks like they were planning quite a BBQ.
6:32AM: I'll have what she's having.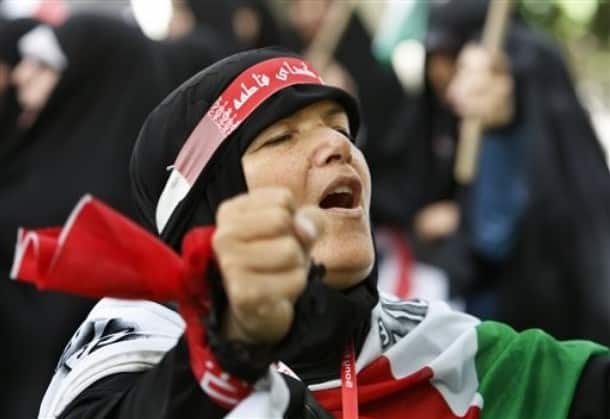 6:24AM: Israeli Foreign Minister Avigdor Lieberman said that despite recent events and Turkey's recall of its ambassador from Tel Aviv, he has no plans of making a similar move.
"I do no intend to recall Ambassador Gabby Levy despite the Turkish decision. I have no intention of enflaming the relations. Nevertheless, the event's repercussions are expected to be felt for a long time and our goal is to find a common ground with Turkey in order to maintain stability."
6:20AM: David Horovitz of the Jerusalem Post asks why did the IDF underestimate the hostility of those it called terrorists?
6:15AM: Deputy head of Israel's mission to the United Nations, Dan Carmon, to the UN Security Council:
Although the flotilla was portrayed in the media as a humanitarian mission, it was anything but.  If that were truly the case, the organizers of the mission would have accepted weeks ago Israel's offer to transfer the aid brought on the flotilla through the Israeli port of Ashdod and through the established Israeli procedures.  Much material and merchandise was entering Gaza daily through those mechanisms.  "I would like to stress there is no humanitarian crisis in Gaza.  The flotilla's organizers had not only rejected Israel's offer, but had stated that their mission was not about delivering humanitarian supplies, but about breaking the Israeli siege on Gaza.

"What kind of humanitarian activists demand to bypass the United Nations, the Red Cross and other internationally recognized agencies?" he asked.  "What kind of peace activists use knives, clubs and other weapons to attack soldiers who board a ship in accordance with international law?" he asked.  He asked what kind of activists embraced Hamas and terrorist organizations that openly shunned a two-State solution and called for Israel's destruction.  "The answer is clear. They are not peace activists; they are not messengers of goodwill.  They cynically use the guise of humanitarian aid to send a message of hate and to implement violence."

A state of armed conflict existed between Israel and Hamas, he said.  Gaza was occupied by terrorists that had ousted the Palestinian Authority in a violent coup, and arms were continuously being smuggled into the territory, including by sea.  A maritime blockade was a legitimate and recognized measure under international law that could be implemented as part of an armed conflict at sea.  It could be imposed at sea, including in international waters.  "Let me also stress that Israel provided, in due time, not only information about the existence of the blockade, but also appropriate notification to the relevant Governments and to the organizers of the Gaza flotilla.  The flotilla had turned down Israel's repeated offers to transfer aid to Gaza, because they had had other plans.  The organizing group, the ?nsani Yard?m Vakf?, had a radical anti-Western orientation.  Alongside its legitimate humanitarian activities, it supported radical Islamic networks, such as Hamas.

When it had become clear that the protest flotilla intended to violate the blockade, despite repeated warnings, Israeli navy personnel had boarded the vessels and redirected them to Ashdod, he said.  The soldiers boarding one of the ships had been violently attacked with live ammunition, knives, clubs and other types of weapons.  The intention had been to lynch Israeli soldiers.  "Without any doubt, the soldiers acted in self-defence," he said.  The injured had been evacuated and were currently being treated at Israeli hospitals.  The Israel Defense Forces, as part of standard operating procedures, would conduct a debriefing on the matter that would shed more light on the day's events.

"Let me be very clear, this was not a peaceful protest.  The ?nsani Yard?m Vakf? people on-board one of the ships were not humanitarian activists," he said.  The Israel Defense Forces' operation had begun as a preventive measure to counter the illegal breakage of the blockade.  Any responsible Government would act accordingly in similar circumstances to protect its civilians.  Israel regretted the loss of innocent life, but it could not compromise its security.  While assessing that particular event, it was important not to lose sight of the bigger picture.  Council resolution 1860 (2009) tackled many aspects, not just humanitarian ones.  The threat to peace and security posed by Hamas could not be ignored.  It was necessary to continue to embrace positive developments in the past few weeks, so that the two parties could sit together in direct talks for their mutual benefit.
******************************************************************************************
Want to learn how to shoot with top Israeli anti-terror experts? Click here for more details.
******************************************************************************************
Please consider a donation. Besides the work we do - which includes scoops, exposing the haters and posting original and entertaining content - this blog takes up not just a lot of time but also money. Your support is appreciated.