With the turmoil in Libyan continuing, one of the big questions is: where is Libyan leader tyrant Muammar/Moammar Gadhafi/Gaddafi/Kadafi? Other ones include:
For his part, Gaddafi has gone to great lengths to dispel rumors he fled to Venezuela.
The longest serving Arab leader appeared briefly on TV to dispel rumors that he had fled. Sitting in a car in front of what appeared to be his residence and holding an umbrella out of the passenger side door, he told an interviewer that he had wanted to go to the capital's Green Square to talk to his supporters, but the rain stopped him.

"I am here to show that I am in Tripoli and not in Venezuela. Don't believe those misleading dog stations," Gaddafi said, referring to the media reports that he had left the country.
Rhianna, eat your heart out (although I have to admit he more reminds me of this).
Meanwhile, just as happened in the case of deposed Egyptian leader Hosni Mubarak, there is a rumor that Gaddafi will flee…to Israel.
Because he's Jewish, of course!
Israel's Channel 2 News last year interviewed two Israeli women of Libyan origin who claimed to be distant relatives of Libyan leader Muammar Gaddafi.

The older of the two interviewees, Guita Brown, said she is Gaddafi's second cousin (Brown's grandmother was the sister of Gaddafi's grandmother). The younger of the two women, Rachel Saada, granddaughter of Brown, explained in more detail:

"The story goes that Gaddafi's grandmother, herself a Jewess, was married to a Jewish man at first. But he treated her badly, so she ran away and married a Muslim sheikh. Their child was the mother of Gaddafi."

While Gaddafi's grandmother converted to Islam when she married the sheikh, according to Jewish religious law (and common sense), she was ethnically still Jewish.

At this point the news anchor stated, "So, the point is that Gaddafi doesn't just have Jewish relatives, he is Jewish!"

Rumors of Gaddafi's Jewish background are nothing new. But with the current uprising in Libya that threatens to ultimately overthrow the dictator, as has happened in the neighboring countries of Tunisia and Egypt, Gaddafi may be looking for an exit strategy.

If the story told by Brown and Saada is true, Gaddafi is entitled to immigrate to Israel as a Jew under Israel's Law of Return. Even if every other country on earth refused him entry, Israel would be obligated by its own laws to take Gaddafi in.

At the time of the interview, the anchor quipped, "I am sure there is some local authority in Israel that would be pleased to have a former president on its staff."
Well, it has been raining in Israel the past few days.
Update: It's an ingenious Zionist plot really. We interfere in Libya and help trigger the pro-democracy protests there, just so we can get Gaddafi to come to Israel. Probably so we can get him to open a fashion line here.
Update: While we are accused of triggering the pro-democracy protests, various Arab and Muslim tweeters are accusing us of supplying Gaddafi with F-16s to fire upon the protesters!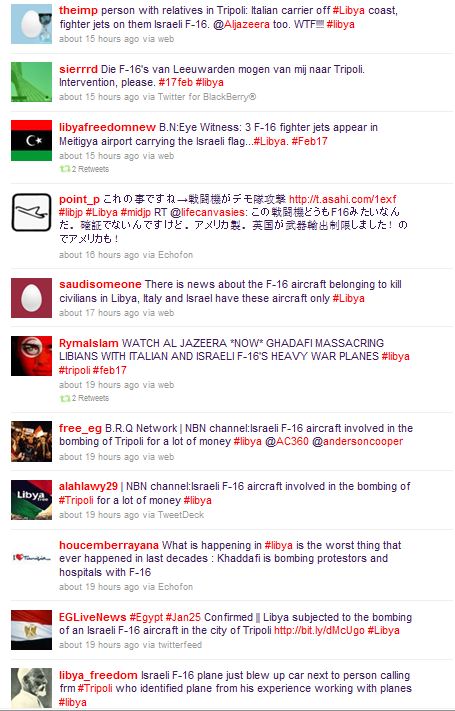 Please help ensure Israellycool can keep going,
by donating one time or monthly