Just when I thought the day could not get much worse following the rocket attacks on Be'er Sheva and Ashdod, palestinian terrorists have again targeted innocent civilians, detonating a bomb in Jerusalem about an hour ago.
Photo: Channel 10

An bomb tied to a telephone poll exploded Wednesday at bus stop outside the International Convention Center, just opposite the central station in Jerusalem.

At least 25 people were wounded in the incident, four of them seriously. All of the casualties have been evacuated to the Hadassah Hospital in Ein Karem. The Magen David Adom emergency services said that there were no fatalities.

Bus No. 74 and No. 14 were hit in the explosion.

An eyewitness in the area at the time of the explosion told Haaretz that she heard a loud blast close to the central bus station and second later sirens began to wail and security forces appeared on the scene.

The entrance to the city has been closed. Security forces were combing the area for other suspicious packages or objects.
To state the obvious, Israel's response needs to be swift and punishing.
Twitter Updates:
Blog Updates (Israel time; Latest from top)
11:08PM: Today, a kiosk owner noticed a suspicious bag, and called police. As he was speaking to them, it exploded.
Here's the recording of the call.
10:44PM: Unbelievable bile published by the Huffington Post.
Mainstream Media Fails Again in Coverage of Jerusalem Bombing

The media in this country never ceases to disappoint. Media outlets all over the world make mistakes and lack in their coverage at one point or another, but I wanted to throw a few things at my TV after watching CNN's coverage of the bombing in Jerusalem this morning. And to be fair to CNN, I didn't get a chance to check out how other American media outlets covered the bombing, but I'm sure they didn't veer off too far from CNN's coverage.

No one has yet claimed responsibility for the bombing, but Isha Sesay, one of CNN's genius anchors, started off the news hour with, "We begin with a gruesome explosion in Jerusalem." Gruesome huh? How come there was no "breaking news" graphic when eight Palestinians were killed in Gaza yesterday? Palestinian children were killed by Israeli air raids, but I guess that's not gruesome enough for some media outlets. The death of innocent Palestinians is not considered breaking news. These "news" outlets always seem to pick up the story half way through and never from the beginning (when Palestinians are getting killed by Israelis); it's only when an Israeli gets killed or injured that breaking coverage begins.

The era of responsible journalism is long dead; I know that, but tell us the ENTIRE story. There is always a beginning, middle, and an end. Tell us about the Israeli blockade on Gaza that has crippled the Gazan economy and has made living conditions there unbearable for its 1.5 million citizens. The UN described the situation there as "grim", "deteriorating" and a "medieval siege."

Then CNN had the mayor of Jerusalem, Nir Barkat, on the phone to discuss the bombing. Barkat began by telling us how "innocent people were hurt" and how they will find the "coward person" who committed this act. Yes, innocent people were hurt and that's always wrong and unfortunate, but "innocence" isn't exclusive to Israelis. And the Israeli military commits acts of cowardice on a daily basis when it drops bombs on defenseless Palestinian civilians.

Carol Costello, with a really sad looking face like she's about to cry, told us about two Israeli pregnant women who went into labor after the explosion. Again, this is unfortunate and no one should have to live through the fear of being blown up into a thousand different pieces, whether it is on a bus or via an Israeli air raid, but there have been countless pregnant Palestinian women who have had to deliver their babies on Israeli checkpoints due to arbitrary restrictions on movement. Not to mention the deaths of Palestinian babies on these checkpoints due to complications and the lack of medical supplies.

Yes, I write this from a Palestinian perspective, but it doesn't mean that I am insensitive to the loss of innocent life on the other side. Yes, I am angry about the Israeli occupation and treatment of Palestinians, but it doesn't mean that I agree with or support bombing a bus full of innocent people. Neither do the majority of Palestinians. But at the same time, I cannot stand how some media organizations in this country jam Israeli propaganda down the throats of their viewers and readers. The Pro-Israeli slant in the media here makes me cringe with disgust. And I KNOW I' m not the only informed viewer who does an eye-roll when it comes to American TV stations' coverage of the region.

The American media's coverage of the Israeli occupation of Palestine and the conflict that ensues because of this occupation really infuriates me to say the least. Tell me both sides of the story. Provide me with context. Present me with the facts and explain to me the WHY! Overlooking such basic elements of journalism places a good deal of responsibility on mainstream American media outlets with regard to perpetuating public ignorance about the Middle East.
10:00PM: Honest Reporting notices a trend when it comes to the mainstream media's treatment of the attack.
8:20PM: Holy moral equivocations, Batman! US President Barack Obama has chosen to offer condolences for the loss of palestinian life yesterday at the same time as he condemned today's terror attack.
US President Barack Obama also condemned the blast Wednesday afternoon.

"I condemn in the strongest possible terms the bombing in Jerusalem today, as well as the rockets and mortars fired from Gaza in recent days. Together with he said. "There is never any possible justification for terrorism. The United States calls on the groups responsible to end these attacks at once and we underscore that Israel, like all nations, has a right to self-defense."

However, the president also chose to express America's condolences for Palestinian deaths at this time.

"We also express our deepest condolences for the deaths of Palestinian civilians in Gaza yesterday. We stress the importance of calm and urge all parties to do everything in their power to prevent further violence and civilian casualties," he said
6:55PM: Huge Bezeq fail on the Channel 2 site.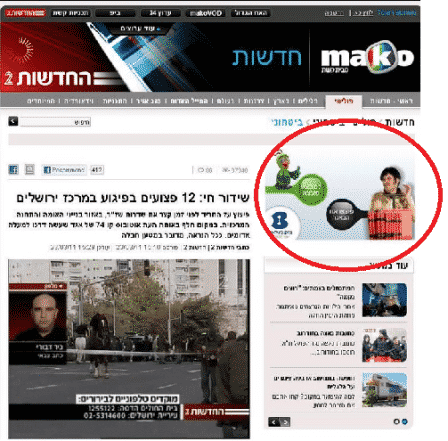 6:45PM: From the Arabic version of Ma'an News (autotranslated):
It should be noted that an explosive device placed in a bag of garbage exploded about three weeks ago near a road leading to the settlement of Gilo in southern Jerusalem, wounding a Palestinian worker was injured.
What's their point?
6:32PM: 7 more mortar shells fired into Israel. This is really the terrorists saying "Come get us if you can!"
6:30PM: Video report of the attack.6:00PM: Photos of ZAKA volunteers clearing the blood and other body parts from the scene of the attack (click on images to enlarge).
5:42PM: As of two hours after the attack, no US official has made a statement.
515PM: The following hospital hotlines are available if you can't reach loved ones:
Shaarey Tzedek 1255125
Hadassah Ein Karem 1255122
5:05PM: Israel radio has confirmed one dead.
4:56PM: Simply deplorable (hat tip: Shy Guy)
4:40PM: The device that exploded reportedly weighed between 1 and 2 kg and was packed with shrapnel.
4:38PM: Nice palestinian response to attack. The handing out of sweets is no doubt soon to follow.
4:35PM: Scenes from Jerusalem earlier:
4:32PM: I have heard unconfirmed reports of at least one dead.
4:30PM: Comment from a friend: Must be those disgruntled Thai workers again (reference).
4:28PM: Live Channel 2 feed here.
4:26PM: Received from ZAKA:
Motti Bukchin, ZAKA volunteer: "We immediately began treating the wounded – two women who were lying on the pavement, by the side of the bus. We were joined by other ZAKA volunteers and emergency workers who assisted in treating and evacuating the wounded to hospital. We have not witnessed scenes like these in Jerusalem for years."

The ZAKA volunteers are currently working on clearing the scene, including blood and body parts which have been spread over a wide area by the blast.

31 people were injured in the blast.
4:25PM: According to Israel's Channel 2, eyewitnesses reported a trolly bag was left at the bus stop without an owner.
Please help ensure Israellycool can keep going,
by donating one time or monthly