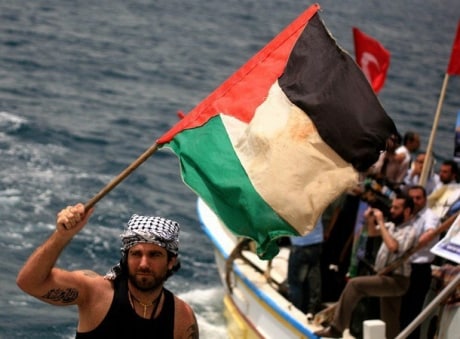 Anti-Israel-organization-masquerading-as-group-of-peace-activists, the ISM, has announced its latest initiative in the wake of the murder of Vittorio Arrigoni, one of their own.
Needless to say, it does not involve acting against the types of palestinian terrorists who murdered Arrigoni and are severely curtailing the freedom of their "beloved" palestinians.
Let's go to Gaza!

On the 21st April, a meeting regarding the discussions and reflections on the murder of Vittorio Arrigoni was held in Rome amongst different activists. From the gathering, the need to organize a convoy to Gaza through Egypt was decided.

Let's start this process by sharing those points:

– We want to go to Gaza through Rafah Border Crossing with all in the world that need to say aloud what Vittorio used to say: Stay human!
He also used to call Zionists "rats."
We want to do it from Egypt because, in the post Mubarak era, that border must be opened to break the siege imposed for too long on the people in Gaza.

– We want to be in Gaza on the 15th May which is the 1 month anniversary of Vittorio's death. It will be also Nakba day, when thousands of young Palestinians, as already announced, will go back to the street all over the world to ask for the end of the occupation
The "occupation" being the establishment of the entire State of Israel in 1948, which is what Nakba day commemorates. Not the so-called occupation of lands after the 1967 war of self defense.
and also, a new unity and the end of the internal division within the Palestinian authorities.
i.e. Fatah and Hamas. Yes, these people see Hamas as a legitimate authority of the palestinians, and not the terrorists that they are (it goes without saying they see Fatah this way)
We want to go to Gaza for different reasons:

– Although Vittorio was killed, it has to be clear that they can not stop the international support for the Palestinian people. Also thanks to him now the international support is much stronger and united against the occupation both of Gaza and of the West Bank.
– We want to give voice and continuity to the work that Vittorio, together with palestinian men and wemen was bringing forward. Partucularly the independent information that he managed to pass to the world from the besieged gaza strip. For this reason, we will bring materials, tools and all we need to give life to a Media Center dedicated to Vittorio.
It goes without saying they will be be bringing tools.
– The Freedom Flotilla will soon sail towards Gaza. Even though the two initiatives are organised separately, the two journeys, both via land and via sea, could reinforce each other to break the siege of Gaza.

Further info:
– The convoy will last six/seven days in order to give the possibility to participate for as many people as possible.
– It will take place between the 11th and 19th May.The exact dates will be agreed in few days with the people in Gaza that will host us.

So, lets start to get ready!
– It will cost around 450/500 Euros all included. And depending on the number of participants, it might be cheaper.
– For any question and to join the caravan please contact us using this e-mail vik2gaza@autistici.org or this phone number
+39-3333666713. These contacts will be running from monday 25th of April.
– We are opening a website called 'vik2gaza' to publicise information.
– We will activate a bank account where we will start to collect feas for accommodation and transport costs and the visas from Egypt.
– We will need some personal preparation to engage in this trip.

CO.R.UM.- Convoglio Restiamo Umani – Stay Human Convoy
CO.R.UM? I think a better name would be R.E.C.T.U.M (Really Evil Convoy of Tools Understanding Murderers)
Please help ensure Israellycool can keep going,
by donating one time or monthly
Facebook Comments
comments