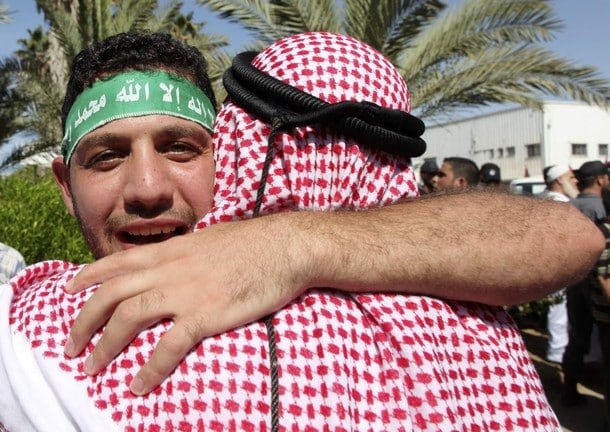 The terrorists released in the Shalit exchange deal have seen the error of their ways and no longer support terrorism against Israelis.
Yeah right.
Ahlam Tamimi had this to say:
"Allah has chosen soldiers for him on this land and they are the soldier of (Hamas' armed wing) the al-Qassam Brigades. They are going to free all prisoners. Thank Allah, without resistance no freedom to prisoners."
And here's Nimer Darwaze:
"The resistance is increasing and there are steps for the future. The resistance will continue until the victory, God willing."
Released terrorist Yehia Sanwar pledged the following:
"We shall do everything in our power to free the prisoners, whatever the cost may be."
Similar sentiments from previously released terrorist Samir Kuntar:
"We shall spare no efforts to liberate the rest of our brothers and sisters. We urge the palestinian resistance groups to kidnap more soldiers to exchange them for the freedom of our loved ones who are still behind bars,"
Here's hoping these scumballs get up close and personal with an F-16 missile in the very near future.
Please help ensure Israellycool can keep going,
by donating one time or monthly