A few days ago, I noted thatIsrael was missing from an extensive list of countries on Twitter.com, which are displayed when configuring mobile settings. While the possibility of anti-Israel bias clearly motivated my post, I am glad to report that it seems to be the result of more mundane considerations.
Per the CEO of Twitter (who deserves kudos for investigating the complaint based on a tweet, and responding relatively promptly):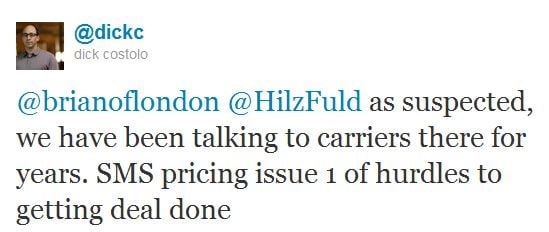 So there you have it, folks. AntiSMSism, not antisemitism.
Please consider a donation. Besides the work we do - which includes scoops, exposing the haters and posting original and entertaining content - this blog takes up not just a lot of time but also money. Your support is appreciated.