CHALLAH @ Ynet
The Jerusalem Police and Shin Bet arrested Muhammad Tutah and Khaled Abu-Arfa – both Hamas activists from east Jerusalem.

The two hid for a year-and-a-half in a Red Cross building in the east Jerusalem neighborhood of Sheikh Jarrah after their Israeli ID was revoked by the Interior Ministry due to their involvement in terror activities.
The Jerusalem Post adds:
On July 1 of last year, fearing that their arrest and expulsion from Jerusalem was imminent, Abu-Arafa, Totah and Attoun showed up at the ICRC office, informing the Red Cross that they wished to hold a sit-in protest on the premises to draw attention to their situation.

The ICRC denied at the time that it had offered the politicians a safe haven.

"We don't have anything to say about them," Cecilia Goin, spokeswoman of ICRC for Israel and the Occupied Territories, told The Jerusalem Post last year.

"Our work is only related to humanitarian issues," she added.

The Red Cross has provided the politicians with a room inside the building where they can sleep and keep their belongings, a bathroom, electricity for their large protest tent, and a water cooler, it is understood.

Family members came daily to bring food and clothes.

"They just came and informed us they were going to stay," said Goin. "The police can come any time to arrest them, we will not act against this. We do not have diplomatic immunity, and we informed Israeli authorities accordingly, because it was an unexpected situation."
This is not the first time that Israel has arrested Hamas members staying with the Red Cross. In September 2011, Ahmed Abu Atoun was arrested.
Additionally, in May 2011, Hamas held a conference at the Red Cross headquarters.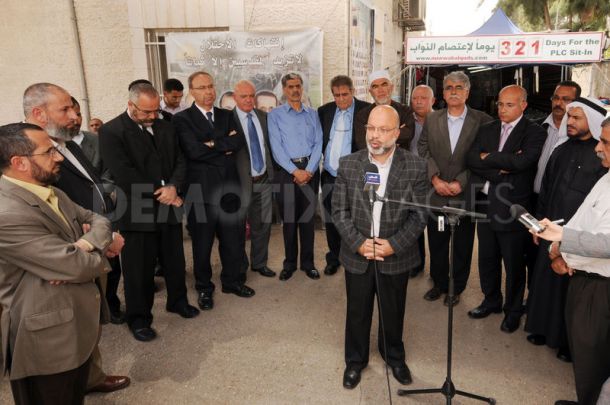 In March 2011, CBN met with some of the Hamas members.
Update: Here is a photo of the two Hamas members in Israeli custody today.
Please help ensure Israellycool can keep going,
by donating one time or monthly