With palestinian terrorists so far today firing more than 40 rockets at Israel – including some landing just 40 kilometers south of Tel Aviv, and another inside Ashdod – the palestinians continue to play the double game of crying over targeted IDF strikes and rejoicing over the injuries and fear suffered by Israeli civilians.
For instance, the Palestinian Times website has posted this video of Israelis fleeing to bomb shelters, with the caption "Video posted on YouTube shows how the fear of the Zionist usurpers of Palestinian resistance missiles, and they fled to shelters."
They also boast some Israelis have been killed, including a rapist (at least according to the auto-translation!) and "usurper Zionist settlers."
Palestine Today features the above video, as well as photos of Israeli children and others finding shelter.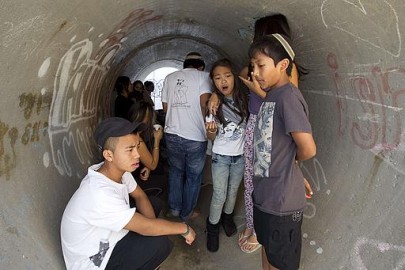 In contrast, while the vast majority of palestinians killed have been confirmed terrorists, pro-Israel websites do not express any joy over the deaths of Gazan civilians. In fact, in this important post explaining IDF pinpoint strikes, the IDF Spokesperson characterizes palestinians civilian casualties as a "sad fact" that we try to avoid.
I think the two sides' respective reactions to news of civilian pain and suffering is very instructive of who has the moral high ground, as well as why peace in this region is so elusive.
Update: From the Globe and Mail:
With every blast that propels another rocket from Gaza toward Israel, a loud Palestinian cheer goes up.

They cheer outside Shifa Hospital in Gaza City as a rocket blasts off from a location uncomfortably near the hospital itself, even as the people gathered there await the inevitable retaliation from Israel and the arrival at the hospital of new patients.

They cheer at the Hamas border post near the Erez crossing separating Gaza from Israel when a rocket is launched 200 to 300 metres away, even though Hamas itself is not firing any rockets and officially opposes the launchings.
(Hat tip: Victor)
Please help ensure Israellycool can keep going,
by donating one time or monthly