As I have posted the past few days, the palestinians are not oblivious to the suffering of ordinary Israelis having rockets rained down on them.
They are actually enjoying it.
Today's first example of this comes courtesy of the Palestine Press News Agency, which has posted this video of rockets striking Ashdod, home to over 200,000 people.
Palestine Today has posted a photo essay showing the injuries and destruction wrought in Ashdod entitled (at least according to the auto-translation): In pictures: the wounded and the destruction and fires due to Al-Quds Brigades shelled Zionist Settlements.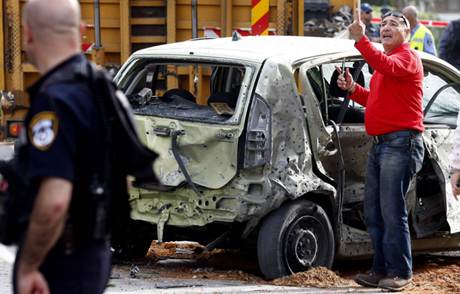 Meanwhile, with talk of a "ceasefire" (after which time, 5 mortars and 2 rockets have been fired into Israel), Islamic Jihad is organizing a victory parade (warning: bad auto-translation)
Is scheduled to organize the Islamic Jihad Movement in Palestine march a massive crowd to celebrate the victory achieved by the Palestinian resistance in the face with the last army of the Zionist enemy and the Tuesday after the Maghrib prayer directly.

The movement called in a statement received "Agency Palestine Today newsletter," a copy of it, the masses of our Palestinian people to participate actively and large in the process of "signs of victory", which begins the day after the Maghrib prayer directly from the field of Palestine, "the scene" all the way to the Red Cross headquarters in Gaza City.

The group said: "The active participation of the masses of our people in the march is evidence of the wrap audiences around the choice of resistance is a challenge and stability will be launched by the Palestinian public that Palestine behind the option of Venice and the resistance."

The movement, the march will be followed by a press conference for the leadership of Islamic Jihad for the development of the masses of our people in the last details of the confrontation and the subsequent agreement brokered truce sister Egypt.
While I'm sure it is good for their morale, I can't help but think they'll use the parade as cover to fire more rockets into Israel.
Please help ensure Israellycool can keep going,
by donating one time or monthly