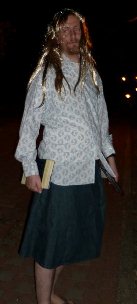 After reading these posts by my friend at Jewlicious, I have to wonder: Is this a market opportunity I simply missed?
So after much contemplation, I am offering the following deals:
$5,000 gets you a meeting with me. You also get to buy me dinner.
$10,000 and I'll throw in some karaoke singing.
$15,000 and you get to take me to a vegetarian restaurant instead of a meat one.
$100,000 if you are an Islamic terrorist. But I get to choose the destination.
I would also offer deals for Brian of London, Zionist Shark and Judge Dan, but I'm not sure for what price they'll sell out.