Ynet:
Bulgarian Prime Minister Boyko Borisov said Thursday that the terror attack at the Sarafovo Airport terminal was likely the work of a suicide bomber, and was not caused by an explosive device planted on the bus, as initially assumed.

Seven people were killed, five of them Israelis, and 34 others were wounded in the blast.

Israel and Bulgaria have launched a joint investigation into the terror attack, with collaboration from the FBI and CIA.

According to Borisov, Bulgarian security services reviewing airport security footage taken prior to the blast were able to spot a man scouting the area around the buses waiting for the Israeli tourists, for over an hour.

According to initial information the man was Caucasian, with long hair, dressed in sports attire.

Bulgarian authorities believe he was the suicide bomber since his body was the most torn by the blast, the Sofia-based news agency Novinite reported.

Further information discovered that the suspect's papers included a US passport issued in Michigan, which was apparently a fake.

According to the report, an FBI database check failed to match the passport's information with an actual individual. It remains unclear how the man obtained the passport, and how and when he entered Bulgaria, as local authorities have no record of his entering the country.
My first reaction seeing the footage? That looks like a girl.
My second reaction? If that's a guy, it looks like a famous bus driver.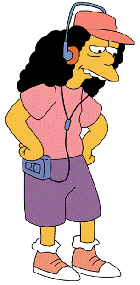 And if you offended by me melding such a serious topic with an almost comedic separated at birth, I suggest you read my friend Benji's post. Heck, I suggest you read it anyway.
For me, I need to be able to be somewhat lighthearted, or otherwise I'll go nuts.
Seriously.
About the Author
An Australian immigrant to Israel, Aussie Dave has been blogging since early 2003.
Filed Under: Aussie Dave • Separated at Birth