There's nothing nicer than a couple with the same interests and hobbies.
A Muslim husband and wife were convicted on Thursday of plotting a terror attack, aimed at Jews in Manchester, northern England.

Shasta Khan, a 38-year-old hairdresser, was found guilty of preparing for acts of terrorism and two counts of possessing information likely to be useful in an act of terrorism. She denied involvement in the plot.

Her husband, Mohammed Sajid Khan, 33, an unemployed car valet, pleaded guilty in an earlier hearing.

They will be sentenced on Friday afternoon.

"This trial has shown the reality of anti-Jewish terrorism in Britain today. It explains why Jewish communities take security and antisemitism seriously," said Mark Gardner, spokesperson for the Community Security Trust, an organization which provides security advice, infrastructure and manpower to British Jews.

During the trial at Manchester Crown Court, which lasted nearly a month, the jury heard that the couple began preparing an attack almost as soon as they married in July 2010.

They downloaded a manual called "Make a Bomb in the Kitchen of your Mom" from the Internet and, following its instructions, began gathering material for a homemade bomb. Material found in their home in Oldham, greater Manchester, included Christmas tree lights adapted to make a detonator, electrical wires, safety goggles, a funnel, needles, syringes and chemicals such as bleach, acetone and peroxide liquid which Mrs. Khan used in her work as a hairdresser.

The prosecutors said that these could be combined within days into a bomb that could kill at least 10 people, and given more time, could be used to kill dozens.
A few observations:
If you ever see a Muslim couple buying Christmas lights, be suspicious. I'm guessing it's not for Iftar.
Would you trust that man with your car? Guess that's why he was an unemployed car valet.
Come to think of it, the idea of that woman wielding scissors near one's head is even scarier
Occasionally, those Muslims Singles sites appear on my Google Ads. I guess I better be even more vigiliant about it in future.
Update: In an Israellycool exclusive, I've tracked down their online dating profiles.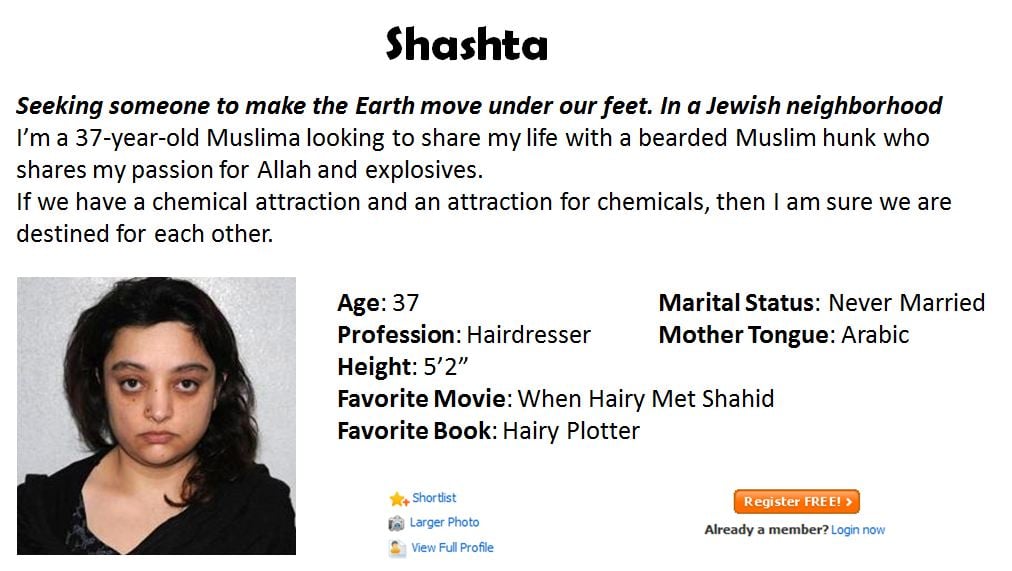 Support more stories like this.