An Egyptian newspaper has decided to use a "battle of cartoons" to counterattack the cartoons mocking Mohammed.
An Egyptian newspaper released a 12-page special section for the purpose of 'confronting thought with thought' as protests against the low-budget film 'Innocence of Muslims' swept the Islamic world last week.

Al-Watan, an Egyptian secular newspaper, published a total number of 13 cartoons within a campaign as a counter-attack to the offensive cartoons mocking the Prophet Mohammed published by French magazine Charlie Hebdo.

The newspaper published the 13 cartoons on Monday under the title "Fight Cartoons by Cartoons."

Prominent secular writers have also contributed to that section of the newspaper, including Amr Hamzawi, Carnegie Middle East Center research director, and Ali Gomaa, the Grand Mufti of Egypt, according to the BBC.

The cartoons portrayed how Western people, especially the Americans, view Muslims.
The cartoon can be found here.
But just one question. If the cartoons are supposed to portray how Western people, especially Americans, view Muslims, where does the antisemitism fit in?
Or is this just a matter of old habits dying hard?
Oh, so true: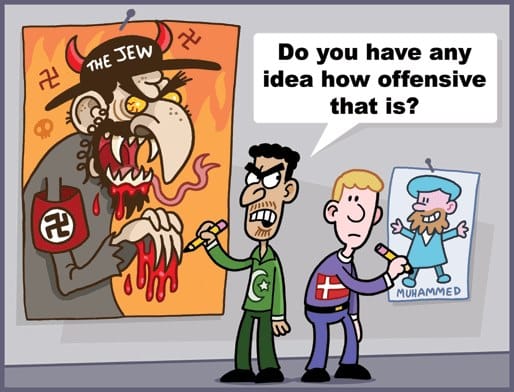 Please help ensure Israellycool can keep going,
by donating one time or monthly