When I turned on my computer on Tuesday morning, I was greeted to a barrage (no pun intended) of reports about a Syrian mortar shell that fell inside Israel:
Several mortar shells landed near the Israel-Syria border, in the northern Golan Heights, Tuesday morning. No injuries or damage were reported.

According to the IDF, the incident took place at 7 am, near the Syrian village of Jubta Al-Hashab. The projectiles laded in an open area adjacent to the border fence.

The IDF stressed that the fire was not intentionally directed at Israel and that it is believed to be the result of the escalating clashes between rebel forces and Syrian President Bashar Assad's army.

"Several mortar shells were fired in the morning hours towards the Golan Heights. No injuries or damage were reported," the IDF's official statement said.

"The fire was directed at villages on the Syrian side of the Golan Heights, as part of the country's internal conflict. The IDF has filed a grievance with the UN forces stationed in the Golan Heights and stressed that it will not stand for any Syrian fire at Israel.

"Civilian security directors have been briefed on the situation," the statement said.
Things didn't get better after Yom Kippur:
On Wednesday afternoon a rocket landed in an open area in the Golan Heights, near the border with Syria. No injuries or damage were reported.

The IDF said the rocket was launched during fighting between the Syrian army and rebel forces.
Mind you, this is not the first time there's military activity in the demilitarized zone between Israel and Syria.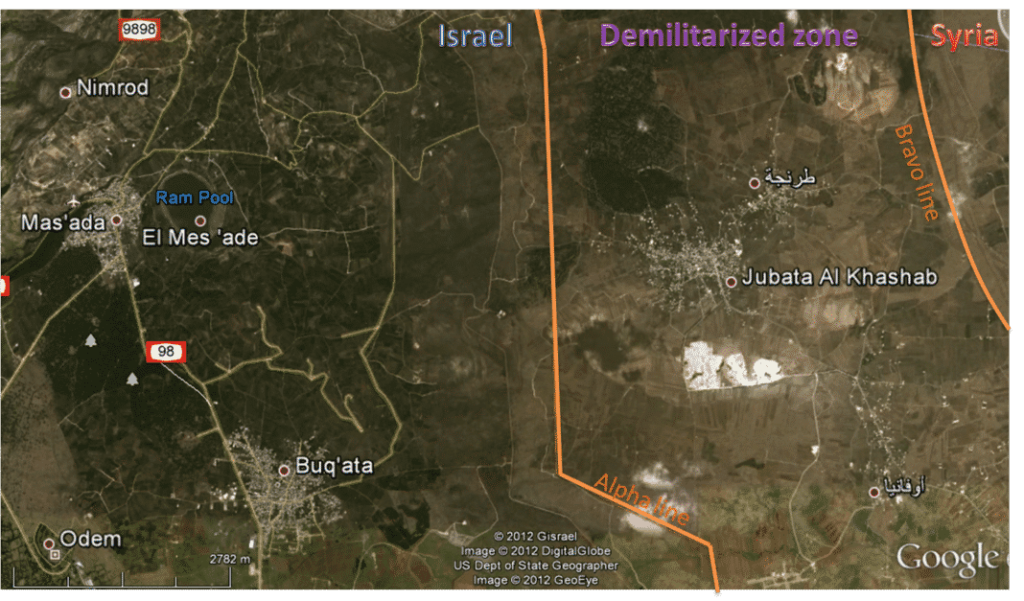 UNDOF, just like it's Lebanese counterpart UNIFIL, is useless. They even admit so by writing a harsh, half yearly report, expressing grave concern and strongly deploring the incidents from the Syrian side, on the occasion of the mandate extension.
Their mandate is to supervise the cease fire between Syria and Israel, and to monitor the buffer zone, between Alpha line and Bravo line, to make sure there's no military activity from both sides. Given Israel set up it's border on Alpha line, any military activity – unless a ground war has started – is solely a Syrian one (for instance, firing mortars at, or from, a village inside that buffer zone).
Even though it might have been a wayward mortar and rocket spent as useless shrapnel on Israeli apples and not used to kill one of the daily 300 people in Syria, you can't overlook the fact that a Syrian ordinance has now found it's way into every single one of Syria's neighbours: Israel, Lebanon (multiple times), Turkey (shot down it's fighter jet), Iraq and Jordan.
Wouldn't we all agree that it's time for a coalition of surrounding states to act against Syria together?
Please help ensure Israellycool can keep going,
by donating one time or monthly