A number of blogs are claiming that Janet Jackson converted to Islam, based on the following report:
Janet Jackson and her fiancé Wissam Al Mana are reportedly planning to get married in Doha, Qatar in 2013.

The couple hope to tie the knot in Doha where the billionaire was born and are making arrangements for the ceremony to take place in 2013.

Janet and Wissam will be wedded in a Muslim ceremony. A renown Turkish author, Adnan Oktar (aka Harun Yahya), is also making the claim that the 46-year-old Janet Jackson has converted to Islam — as did her brother, Michael Jackson — and is choosing to keep her new religion a secret from her fans.

According to an insider the wedding will be "one of the biggest, most memorable extravaganzas in recent history".

The source added to National Enquirer magazine: "They have tentatively set a late 2013 wedding date. But they are still working out the details and the exact day."

They will reportedly spend $3 million to fly in their 500 wedding guests from all over the world, while Wissam wants to give all attendees a $10,000 Rolex watch each as a thank you for attending.

The insider added: "Wissam is going to splash big when he marries Janet. It's going to be the wedding of the century."

Janet and Wissam allegedly got engaged last year after Wissam, a billionaire whose family has extensive reaches in the real estate and media spheres, proposed to her with a stunning 15 carat diamond ring. The couple met in December of 2009 after Janet gave a special performance in the Middle East and the rest, so it seems, is history. The couple was supposedly shooting for a 2011 wedding, but they ultimately tempered their excitement and chose to hold off for a couple of years so they could have time to plan the festivities.

Janet has been dating Wissam – who is almost a decade younger than her – since summer 2010.
Interestingly enough, one of the bloggers – notorious shrill-blogger Debbie Schlussel (who accuses all and sundry of plagiarism, including yours truly) – copied out the above without any link or attribution to the source!
Janet Jackson Converts to Islam to Marry Qatari Billionaire – Halal "Abda" Cha-Ching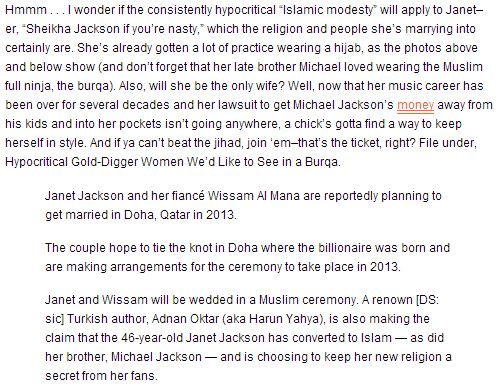 But more to the point of this post: the source of the story is The National Enquirer! Since when is this notoriously inaccurate tabloid a definitive source? Sure, there are photos of Jackson wearing a hijab, but this is not proof, considering how many well known women wear these in Muslim countries purely out of respect.
For the record, the man quoted in the report, Adnan Oktar, also claimed Michael Jackson was a Muslim. Something that was never confirmed, and probably not even true.
Granted, it might turn out that Janet Jackson did convert to Islam, but I object to bloggers claiming so definitively based on a tabloid report. It gives all bloggers, including those of us who value vetting of sources and careful analysis of facts, a bad name.
Please help ensure Israellycool can keep going,
by donating one time or monthly