The following two tabs change content below.
An Aussie immigrant to Israel, Aussie Dave is founder and managing editor of Israellycool, one of the world's most popular pro-Israel blogs (and the one you are currently reading) He is a happy family man, and a lover of steak, Australian sports and girlie drinks
Latest posts by Aussie Dave (see all)
They've done it again.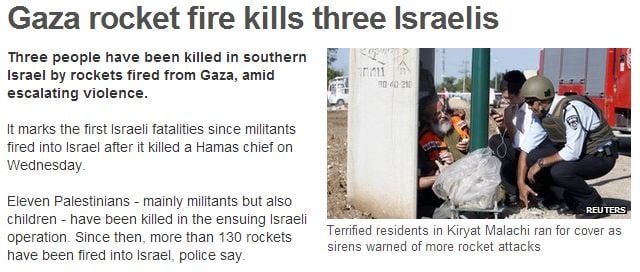 Granted, the headline is accurate. But what's with the next paragraph?
It marks the first Israeli fatalities since militants fired into Israel after it killed a Hamas chief on Wednesday.
Leaving aside the use of the word 'militant,' reading this, you would be forgiven for thinking the terrorists only started firing rockets into Israel after we killed the Hamashole commander yesterday, ignoring the 100+ rockets preceding his vaporization, and the thousands following the last Israeli fatality.
Oh BBC, it's really in your DNA, isn't it?