The following two tabs change content below.
An Aussie immigrant to Israel, Aussie Dave is founder and managing editor of Israellycool, one of the world's most popular pro-Israel blogs (and the one you are currently reading) He is a happy family man, and a lover of steak, Australian sports and girlie drinks
Latest posts by Aussie Dave (see all)
We are used to the anti-Israel crowd passing off Syrian kids as palestinian. Now a BBC reporter gets in on the act.
Heartbreaking RT@ihazemi Pain in #Gaza twitter.com/iHaZeMi/status…

— Jon Donnison (@JonDonnison) November 18, 2012
The link takes you to this photo: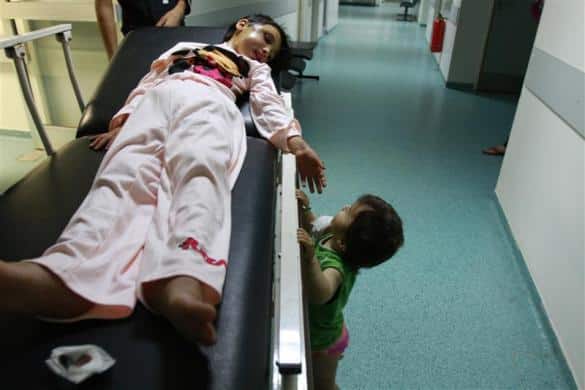 ..which is a photo from June taken in Lebanon.
Donnison has since apologized, but accuracy is still not on his agenda.
A photo I retweeted from another journo yesterday showing children injured was NOT in Gaza as I said but apparently from Syria. Apologies.

— Jon Donnison (@JonDonnison) November 19, 2012
Here's the photo caption:
Shams al-Mohamad, a 6-year-old Syrian girl, lies on a stretcher as she looks at her sister Marwa at a hospital in Tripoli, northern Lebanon, June 14, 2012. According to their mother, Shams and Marwa were wounded two days ago when a shell hit their house during fighting between Syrian troops and anti-government forces in the Syrian town of Qusair. REUTERS/Omar Ibrahim (LEBANON – Tags: POLITICS CIVIL UNREST SOCIETY)
But correction or not, I fear the damage has been done.