Let's hope the following serves as a big warning to all those journalists tempted to come over here and spread lies about us.
BBC Watch is confirming BBC man in Gaza, Jon Donnison, has been recalled to answer an Israeli Government Press Office hearing.
He and the BBC Jerusalem Bureau chief Paul Danahar have been recalled over his passing on an image of a dead child from Syria as if it was recent and from Gaza. He passed this on not just uncritically as a "re-tweet" but with the addition of his own comment: "Heartbreaking".
[tweet https://twitter.com/JonDonnison/status/270282638244319232]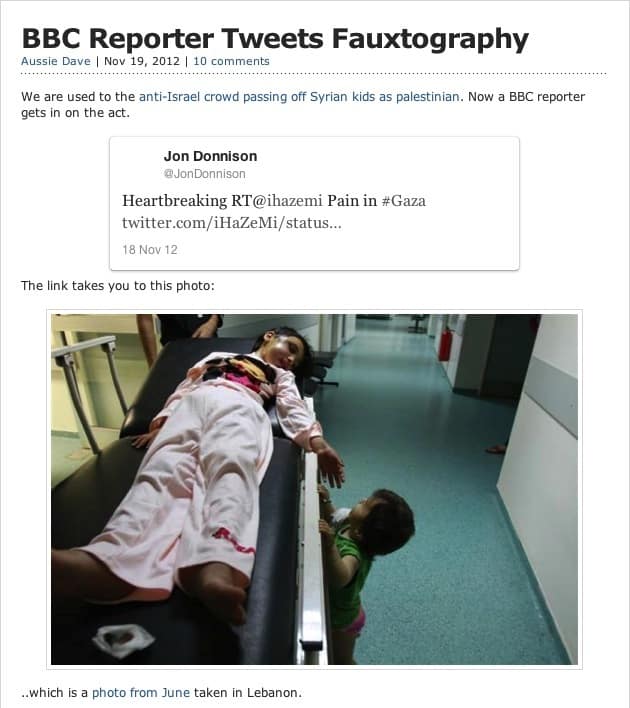 Well yes, Jon, heartbreaking for your career peddling anti-Israel lies to your eager audience at the BBC.
We weren't impressed with the way he ridiculed Israeli pet owners' concerns for their pets and a Jerusalem Post journalist tasked with writing a perfectly reasonable story.
And the fact that Jew "Zionist" hating Lauren Booth was obviously hanging on his every tweet, tells you a lot about the kind of people his tweets were appealing to.
BBC Watch's Managing Editor Hadar Sela said:

"It is unfortunate that Donnison has jeopardised his career in such a manner, through his failure to adhere to the BBC's own Editorial Guidelines on accuracy and impartiality and its existing guidance on the use of social media.

The BBC's funding British public, as well as millions of people around the world who rely on the BBC for trustworthy information, no doubt also await the results of a BBC investigation into Donnison's breach of his organisation's Editorial Guidelines."
[In an early version of the post I said summoned "home". They've been summoned out of Gaza to an Israeli GPO hearing.]
Please help us get the word out. Your support is appreciated.