The following two tabs change content below.
Judge Dan
Dan Smith has been exposing anti-Israel fallacies since the first time he opened the world wide web on Netscape Navigator, sometime in the late 90's. His lack of formal journalistic, political and sociological education means he is still capable of objective, unbiased views and opinions. A judge of media, pundits and media pundits.
Latest posts by Judge Dan (see all)
In today's Jerusalem Post paper, someone overlooked exactly which internet image of Tayseer Tamimi they chose to print, and pulled a JonDonnison.
Here's the image in detail: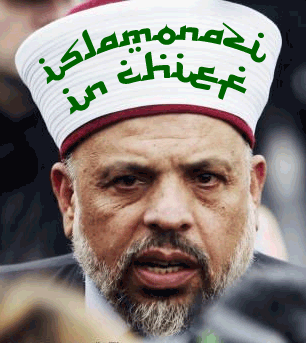 Needless to say, you don't need to know Arabic to read it.
In the original image, it's just a plain white head cover.
h/t Latma