UPDATE: We've opened up a new post for day two's snow news in Israel!
After 3 days of strong winds and torrental rains, the winter storm engulfing the Middle East is about to reach it's climax. With snow already covering the better part of northern Israel, it's just a matter of time untill it reaches Jerusalem, where yours trully resides.
I'll be live-blogging the #shelegeddon in Jerusalem here, and on Twitter.
On Wednesday the weather forecasts proved correct delivering heavier snow through the night until Thursday morning.
Until then, Good night.
23:45: Mayhem! It's cold, really cold, and roads are icing over. Winter driving skills are not something we teach in Israel. There are cars spinning tyres, vans not able to drive off a slop-ish intersection, and ambulance sirens going off all the time.
Jerusalem traffic on @waze not looking happy in #shelegeddon #fb twitter.com/brianoflondon/…

— Brian of London (@brianoflondon) January 9, 2013
23:00: Getting thicker now.
And even getting stuck in traffic is no mood breaker, just get out and start a snow ball fight.
Stuck in stand-still traffic to #Jerusalem when a snowball fight breaks out in the street! FUN! #shelegeddon twitter.com/moweezle/statu…

— Maureen Milham (@moweezle) January 9, 2013
22:45: Snowing again, road 1 from Tel Aviv to Jerusalem was blocked as a precaution. Snow ploughs are going back and forth the main streets. The question on everybody's mind is, will there be school tomorrow? A final verdict has to come before 7 a.m., but I suspect that with current snow fall, it might come in the next hour.
22:05: This is sad. You can see the clouds that produced the snow some 20 minutes after they passed, and there's nothing but clear skies ahead.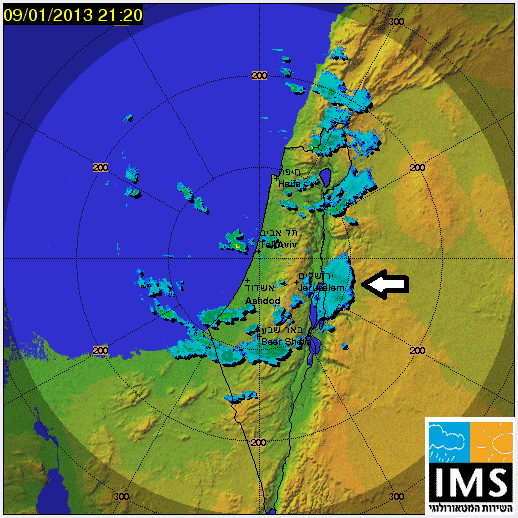 21:00: Right as I was hitting update, this happens!

I think my flowers are dead
20:50: Shelegeddon hype in Jerusalem is dying down and there are reports that the system is weakening earlier than expected. Nevertheless, Even the desert town of Mitzpe Ramon has seen a few snow flakes fall down. The upper Gallille is all coverred in snow, and Brian of London is holding ocult rituals so that his electricity stays intact.
Neighbouring neighbourhood is dark. Our lights are flickering. Yikes. #shelegeddon

— Brian of London (@brianoflondon) January 9, 2013
And there's also a Graupel themed twitter account. He's fuzzy, round and cool!
19:00: Political demagougery of the day: Labour party head Shelly Yechimovitch compares a flash flood in Bat Hefer, that caused the evacuation of 150 people, to the 2004 Indian Ocean Tsunami, that killed 240,000 people.
From ToI. that also use "Stormfront" in the title, well sh*t .
Hi, it's Shelly!" she posts on her Facebook wall. "A tsunami wave of rain and sewage three meters high coming from the Nablus River broke the security barrier and washed over the town of Bat Hefer. We are returning from [Bat Hefer] now and the scenes remind us of the [2004] tsunami in Thailand.
18:40: Weather still patchy, nothing we haven't seen today.
IMS precipitation radar site has stopped updating since 17:00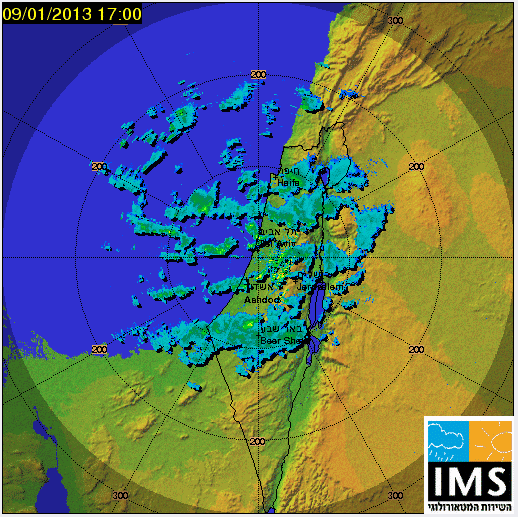 And on a brighter note, the Kinneret, the sea of Galille, has risen by 60 cm since Friday.
16:50: The sun has set, the sky is darkening, and the snow/graupel is falling heavily again.
I've sewn these flowers 3 weeks ago. I don't think they'll make it.
16:10: The down side of tweeting, is that old photos of snowy Jerusalem get shared.
Photo: snow falls on Jerusalem. Israelis wait every winter for this to finally happen. twitter.com/ofirgendelman/…

— Ofir Gendelman (@ofirgendelman) January 9, 2013
That image is from a few years back.
Updated: Ofir Gendelman deleted that tweet and image after I pointed out it was old, but others are sharing it:
That's some holy #snow! OldCity #Jerusalem #Israel! @israelinnewyork @avimayer @standwithus @aipac @israelinusa @israel twitter.com/Ostrov_A/statu…

— Arsen Ostrovsky (@Ostrov_A) January 9, 2013
Seriously! search it on Google before posting!
Update 2: on the right side you can see the Mughraby ascend, that part of it collapsed by heavy snow in 2004. By 2007 it was completely erased. Hence I can date that image to circa 2004.
16:00: Winds have really picked up now, strong gusts and car alarms going off. There's rain and snow mixed in together as well
15:20: As of 18:00, all public transportation in Jerusalem – buses and light rail – will be free, in an effort to reduce the number of cars on the roads.
15:10: More snow pictures by other people:
That's more like it. #Snow in #Israel. #itsabouttime #Jpost instagr.am/p/UQ3FwhDzwK/

— Melanie Lidman (@melanielidman) January 9, 2013
15:00: Made it! right as I was leaving, a very menacing cloud approached. 5 minutes later, I was driving in a snow storm. It's probably mostly gone by now though, the skies have cleared up a bit afterwards.
On they way, I could see some type of wheeled loader in many intersections. The municipality is expecting for the worst.
For more snowy Israel photos, look here.
13:50: There are reports, and pictures on facebook, that in the higher parts of the city snow is starting to accumulate, and while I'm pretty sure that's also graupel, every now and then some soft flakes fall down.
I'm heading back home now, so it will be a while until next update, stay tuned.
13:20: Weather condition in Mt. Scopus:
2 degrees Delsius, 95% relative humidity, 910 hPa atmospheric pressure – probably unadjusted for topography, and 49 Km/h wind.
And Graupel:
12:20: IMS percipitation radar as of 20 minutes ago, it's really patchy.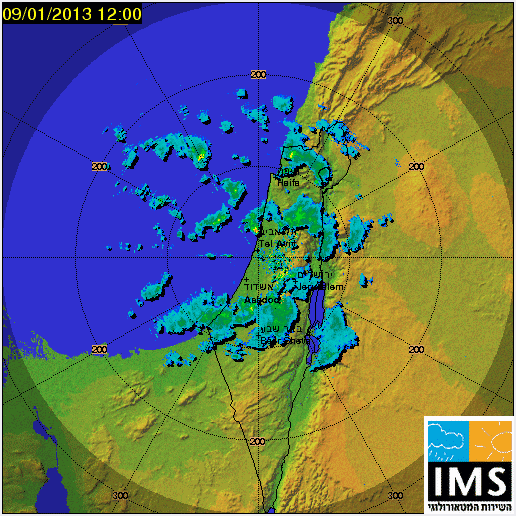 12:05: Jeruslaem municipality has snow plows front loaders with chains and salt spreaders on stand by, as all schools are cancelled now. Meanwhile the light snow here has almost stopped, and in other part of the country snow is continuing to fall. 10 cm as accumulated in the high Golan, and 5 cm in the high Galillee.
11:50: This image (and many others of snowy Israel) was published by Ynet, and supposedly shows a snowy Har Hozvim. It's probably just hail that I had a first hand report of a few minutes earlier, by a friend driving near Mevaseret Zion to the east.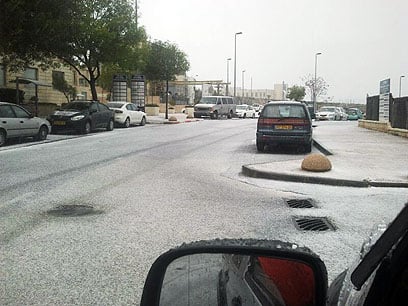 11:40: Light but consistent snow has started. The municipality is having a meeting around noon to desicde their actions. Schools are set to close at 12:00.
11:30: It's been one crazy morning, with sun, rain, snow, sleet, hail and strong winds, all interchanging every 15 minutes or so.
Here's the view from Mt. Scopus looking south-east, as of 10 a.m.
Here's the same view 10 minutes later:
Please help ensure Israellycool can keep going,
by donating one time or monthly