Hollywood actress Drew Barrymore may not have converted to Judaism, but word on the street is she is on the way, and is even having her tatts removed to further her Semitic ambitions.
Alternatively, she just wants to be taken more seriously.
DREW Barrymore has reportedly decided to have her tattoos removed as she is becoming more "conservative".
The 37-year-old actress is clearly embracing her new status as a wife to Will Kopelman and mother to daughter Olive, who was born in September last year.

Star magazine claims that the former Hollywood wild child wants to ditch her collection of body art to ensure she is taken seriously. There is also speculation that she made the decision because she is converting to Will's Jewish faith and cannot be buried in a traditional cemetery unless she is tattoo-free.

"Drew also wants to be a Santa Barbara mom, and tattoos clash with that wardrobe," a friend told the publication.

"She's growing up and turning conservative."

Barrymore's tattoos are believed to include a butterfly on her stomach, a cross on her leg, two angels on her lower back and a bouquet of flowers on her hip.

The star reportedly started undergoing the painful process of removing the etchings recently.

The Charlie's Angels star recently revealed that she takes her work and family responsibilities very seriously. She is determined to be a good mum and wife, as well as a successful career woman.

"I will always commit," Drew explained. "I want to be that kind of mother. I'm that kind of friend. I'm that kind of producer. I do everything in this life-or-death way… The only thing I've tried to get better at is starting to believe maybe it's not life or death. But the [level of] commitment hasn't changed or wavered."

Drew also confessed she is thriving since getting married to art consultant Will in June last year and feels happier than ever.

"I'm a Kopelman now. I have stationery that says 'Drew Barrymore Kopelman,'" she beamed.
If she's doing it to be buried in a Jewish cemetery, now might be a good time to inform her that the idea that a person cannot be buried in a Jewish cemetery if they have tattoos – even in an Orthodox one – is a common misconception. While the Torah forbids tattoos, this does not translate to a ban on being buried in a Jewish cemetery. Of course, Jewish burial societies can use their own criteria, but only a minority of them would enact this practice.
So Drew, I may just have saved you some pain.
Don't thank me I'm a giver.
Update: On second thoughts, you may want to do something about this one. Just sayin'.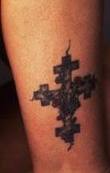 Please help ensure Israellycool can keep going,
by donating one time or monthly