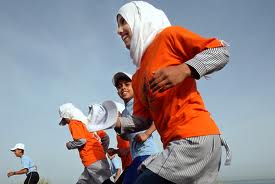 Do you recall the planned Gaza marathon?
Well, UNRWA has announced its cancellation due to the evil Joooos – Hamas!
UNRWA regrets to anounce (sic) that it has had to cancel the third UNRWA marathon which was to be held on 10 April. This disappointing decision follows discussions with the authorities in Gaza who have insisted that no women should participate.

Registered participants who still wish to come to Gaza are welcome. UNRWA is working on a programme of other events, which will be forwarded to those interested as soon as possible. UNRWA sincerely regrets the inconvenience this causes those who planned to participate in the marathon.
How about UNRWA regretting the inconvenience to women of living under Hamas rule?
I am keen to hear what the likes of the ISM, Free Gaza, Lauren Booth and George Galloway have to say about it, although I suspect it will sound a lot like this.
Please help ensure Israellycool can keep going,
by donating one time or monthly