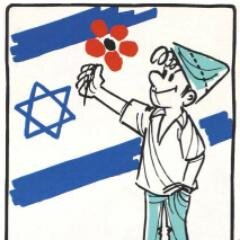 I have set up a new Twitter account with the goal of using images to inform the folks of planet Internet of the benefits of being pro-Israel.
The idea of this Twitter account is to act as a hub of informational and powerful imagery to help dispel false anti-Israel libel. Who knows? If the account gains traction it can be used to propel our favourite pictures into "Internet Virality".
Posters that meet the following categories (and more) will be posted:
Feel good and positive stories about Israel (new innovation, international aid, etc)
Israeli defence activities, why they are important, illustrations of their effectiveness, steps taken to minimise loss of life.
Illustrations that prove anti-Israel propaganda as false.
Illustrations of the dangers Israelis face daily living without peace.
Why BDS is not helping anyone.
You won't see the following posters here:
Posters attacking Islam (I see these a lot on my Twitter feed and I personally consider them just as racist and offensive as anti-semitic pictures)
Pictures that don't really add much informative content to share.
Potentially offensive pictures that don't do anything except cause anger without justification.
The account will involve minimal conversations (to keep the feed clean).
We welcome contributions (just send a link to @posters4israel). Creative credit will be respected when possible.
So, tell your friends to follow, let's see if it works!
Please help ensure Israellycool can keep going,
by donating one time or monthly