Earlier today, Jono thought he had come across the most despicable tweet ever.
While it is right up there (or should that be 'down'), a new contender has emerged.
50 Retweets and i'll knock this Jew out pic.twitter.com/zdKHpTeMJX

— Frenchy (@Ayyoub_17) March 13, 2014
Yadbyaduk, who drew this to our attention, inform us that they reported this to the police. Here's hoping the authorities do something about it.
The guy who tweeted this desire to physically hurt a Jewish man he never met describes himself as a 19 year-old palestinian who goes to Middlesex University. This information has also been forwarded to the police, so besides being charged with a hate crime, he'll hopefully also be turfed out of that academic institution.
For the record, here's what he looks like.
#FreePalestine ?? http://t.co/wKI0E8T3y9 < show support and get yours here asap ! #RT pic.twitter.com/iYMhbj0j15

— Frenchy (@Ayyoub_17) February 23, 2014
Meanwhile, in case you think his desire to beat up a Jew stems from a hatred of Israel alone..
Yo Muslims let's all start doing this "anti-semetic" pose in our pictures #FuckJews #Rebel #Trendsetter pic.twitter.com/igzExm7NHG

— Frenchy (@Ayyoub_17) January 22, 2014
Update: Looks like Twitter suspended his account or he took it down.
Update: I see the pics in the tweets are not appearing now.
Here is a screenshot of the offending tweet.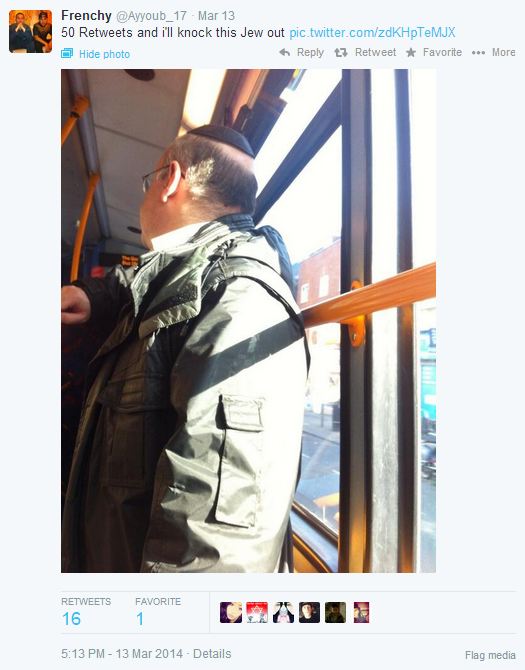 And here is a photo of the youth in question (he is the one of the left):
Please help ensure Israellycool can keep going,
by donating one time or monthly