Remember the 19-year-old palestinian Middlesex student who expressed his desire to knock out a Jewish man next to whom he was standing?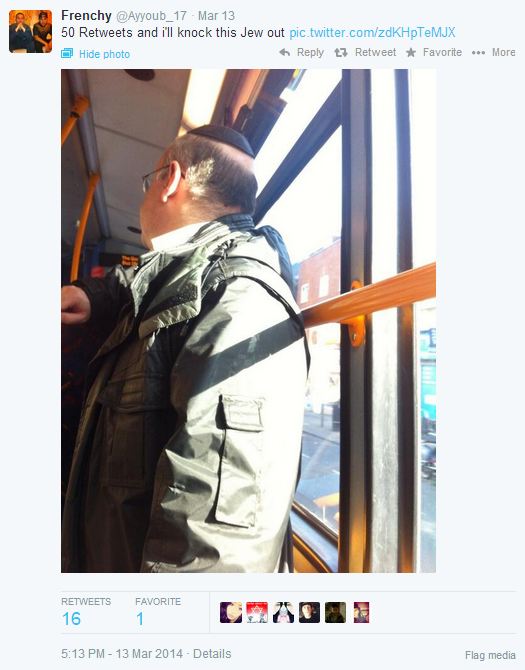 A number of people reported this to the police and I noted Twitter either suspended his account or he took it down.
After his despicable tweet was publicized, he wrote a number of private tweets to Yadbyaduk, "apologizing" for what he had done.
In regards to my tweet, it was a very stupid, childish and immature joke which should not have happened. I am not a rascist, nor do i hate Jews, or anyone for that fact.

I understand how it must have made you feel, and i am sorry for any grief and anger i may have caused.

I assure you this, or anything like it, will never happen again. It was a moment of stupidity, and i am sorry sir/madam.
The question was did he really feel remorse, or was he just trying to protect himself since he had been caught?
Well, I think we now have an answer. The youth has reactivated his Twitter account, changed his name to "Montana" and has tweeted the following:
And this barely understandable one:
Bare Israelis following me now lol do one

— Montana (@Ayyoub_17) March 27, 2014
He also retweeted this:
The word "Ya7oodi" seemingly representing "Yahoodi", which is Arabic for "Jew."
Then there's this:
What he has not tweeted is a public apology for the tweet that landed him in hot water.
Does this look like someone really remorseful of expressing his desire to commit a hate crime against Jews?
Of someone who does not really hate Jews?
I'll let the police and Middlesex University decide.
Please help ensure Israellycool can keep going,
by donating one time or monthly
Facebook Comments
comments