Yesterday, a group of Israel haters held a faux soccer game in New York: Zionists vs Palestine 2014.
Surreal does not begin to describe this endeavor.
Existence is Resistance (EIR) presents the second "Zionists vs Palestine" soccer match.

In 2012 EIR sponsored a Soccer match and BBQ in Prospect Park which besides being a fun day for the family was also used as a creative theatrical display of ongoing discrimination, humiliation and occupation of the Palestinian people by the Zionist state of Israel and highlighting the role that the USA plays in shielding Israel from accountability.

We invite you to join us for our follow up match which this time around we will be adding creative elements to the game which will include things such as restriction of movement, common IDF suppression and intrusive surveillance.

Gathering /Set-up – 12 noon
Player selection – 1pm
Kick off – 2pm
Dabke dancing – 4pm

If you would like to volunteer for this event please email us at eir.nyc@gmail.com – we will be having a pre-meeting to make signs, mock walls, mock tear gas canisters etc. and will need some extra hands.
The list of Palestine "players" speaks volumes as a who's of who of terrorists, including Leila Khaled (PFLP), Marwan Barghouti (Tanzim), and Khader Adnan (Islamic Jihad). But apparently no Ismail Haniyeh.
They even "recruited" Hasan Nasrallah, the arch terrorist of Hizbullah, which is a Lebanese – not "palestinian" – terrorist organization. Then again, they have other foreign recruits, such as Mandela and Tutu.
Bear in mind the group's name is Existence is Resistance. We all know what they mean by "resistance."
And who did they have playing for the "Zionists"? Obama, (the anti-Israel) Donald Sterling, Mahmoud Abbas (!), King Abdullah and a woman who could only dream of looking like Scarlett Johansson (SodaStream bubble butt?)
Using the names of terrorists should not be a laughing matter, but try telling that to group member Lida Poofy.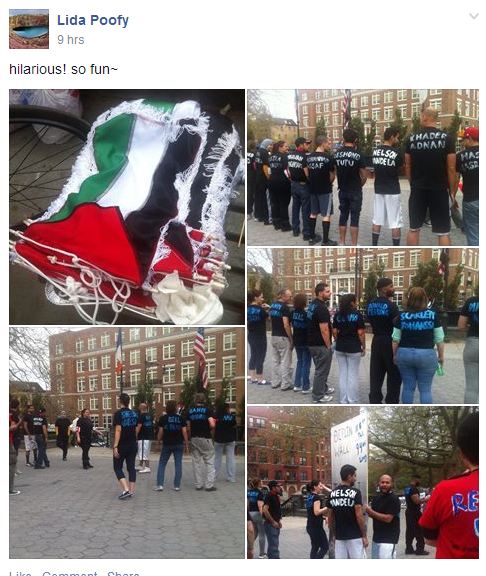 The only thing hilarious about this is the name Lida Poofy.
For added surrealism, a restaurant called The Bagel Pantry sponsored the event.
A bagel restaurant run by palestinians.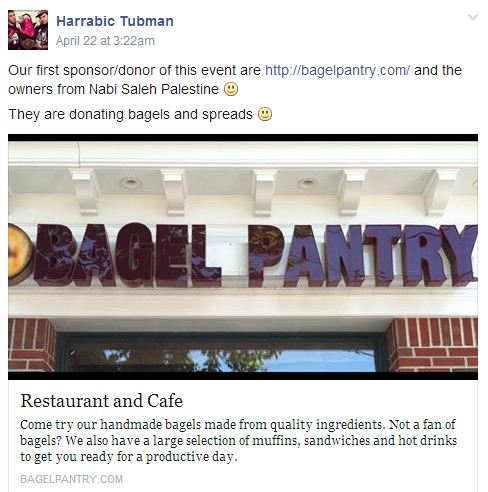 I can't help but agree with this guy.
Please help ensure Israellycool can keep going,
by donating one time or monthly