The following two tabs change content below.
An Aussie immigrant to Israel, Aussie Dave is founder and managing editor of Israellycool, one of the world's most popular pro-Israel blogs (and the one you are currently reading) He is a happy family man, and a lover of steak, Australian sports and girlie drinks
Latest posts by Aussie Dave (see all)
Irish singer Sinead O'Connor is reportedly heading to Israel to play a concert in August.
While it has not been confirmed on her site, the BDSholes are already pressuring her.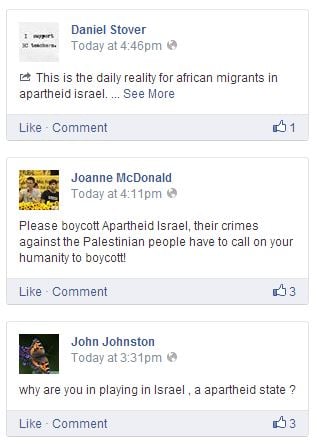 Last time she was here, she cancelled due to death threats from the People's Front of Judea Ideological Front, a pro-Israel group that seemed to have forgotten the basic tenets of Judaism. But in her response to them, she illustrated she likes us, she really likes us.
"I have some things to say in response to your organization's recent threat upon my life," O'Connor began her page-long rebuttal. "And your subsequent interview on Israel radio, during which you gloated about your 'success' in preventing my appearance in Israel on June 21."

"…I have always had the most passionate love for the Jewish people, and sorrow for what they have suffered throughout the centuries," O'Connor said, explaining how she has studied Jewish traditions.
Then there's this.
So I am guessing the BDSholes will end up tearing out their hair.