The following two tabs change content below.
An Aussie immigrant to Israel, Aussie Dave is founder and managing editor of Israellycool, one of the world's most popular pro-Israel blogs (and the one you are currently reading) He is a happy family man, and a lover of steak, Australian sports and girlie drinks
Latest posts by Aussie Dave (see all)
Those who claim to be all about human rights, and who side with the palestinians, are invariably among the biggest haters and morally bankrupt people you can find.
Greta Berlin is one such person. So is some woman by the name of Becky Dent, who has come to my attention with some equally vile posts concerning the three kidnapped boys.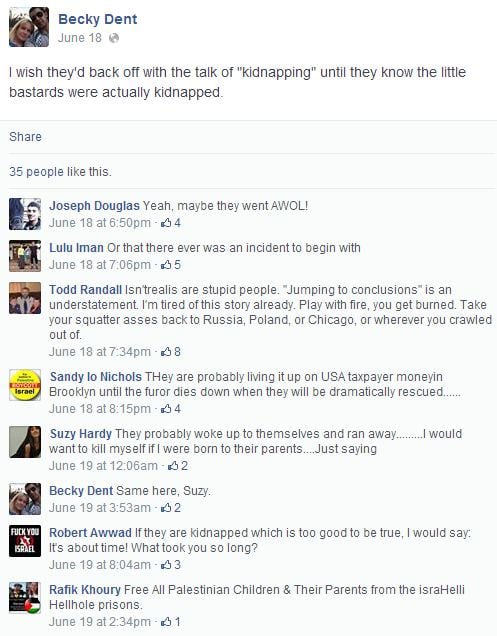 Exhibit C: (follow her comments in the thread as well)
Such casual evil.
The thing is, if I were to call her antisemitic, she and her supporters would respond with righteous indignation.
So I bring you Exhibit E.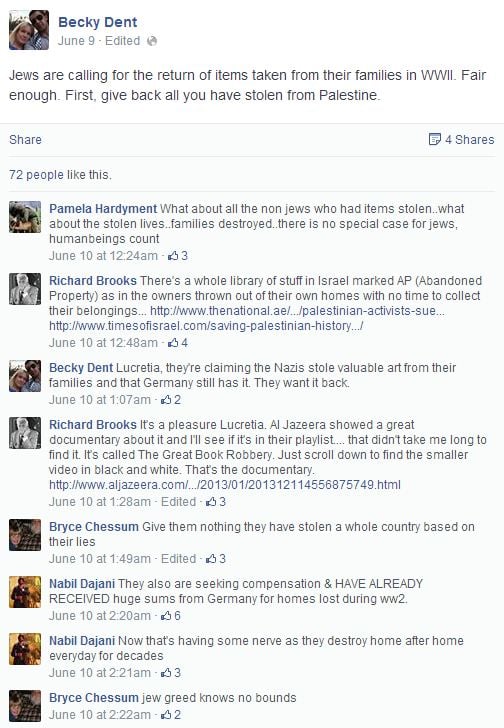 Click on the '2' under the comment about "Jew greed" to see who liked it.
The sad thing is, this seems to be more the norm than the exception among the anti-Israel crowd.