Regular readers know I have a lot of experience with the Israeli hospital system the last few years, given my wife's illness. Especially the wonderful Shaarei Tzedek, which I have posted about before, with regards to the coexistence on display.
The best way to see the ridiculousness of the apartheid accusation is to visit an Israeli hospital

Not only were the vast majority of patients in the ward Arabs, but so were the majority of my wife's surgeons, as well as a number of the nurses. And on the last night of her stay, my wife shared a room with an Arab woman.

I invite all BDSHoles to come visit an Israeli hospital. I'll even set it up.

And no, that was not a threat.
Well, this is still the case, but a recent, troubling incident has come to light.
And sure enough, a scan of his Facebook page reveals some really troubling posts, including the following:
What seems like a justification for terrorism.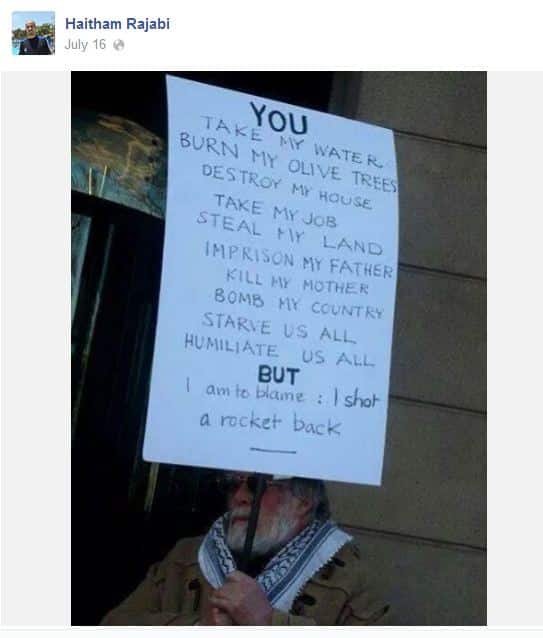 Noam Chomsky with an anti-Israel statement.
Gory pictures, including this fake one straight from a horror movie. Literally.
And of course the R4BIA (with a picture of Mohamed Morsi of the Muslim Brotherhood), which among other things, stands for "the end of Zionists."
I am glad Shaarei Tzedek is taking this seriously, but I find this so troubling, and do not think anyone with such vehemently anti-Israel views should be allowed to practice as a doctor in an Israeli hospital.
Then again, I don't think people with such vehemently anti-Israel views should be allowed to be members of the Knesset either.
Update: According to this Facebook post, an Arab doctor at Hadassah Ein Karem wrote the following after it was announced that 13 IDF soldiers were killed yesterday:
"Oh, man, only 13. I thought there were more."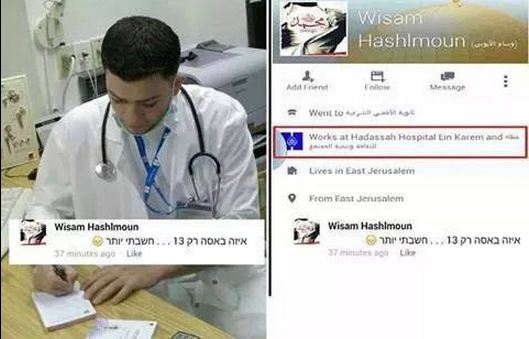 Update: Statement from Hadassah:
Please help ensure Israellycool can keep going,
by donating one time or monthly