Again Israel is pressured into a cease fire for "humanitarian" reasons.
Again Hamas takes advantage for its own destructive purposes.
Cartoonist Branco gets it: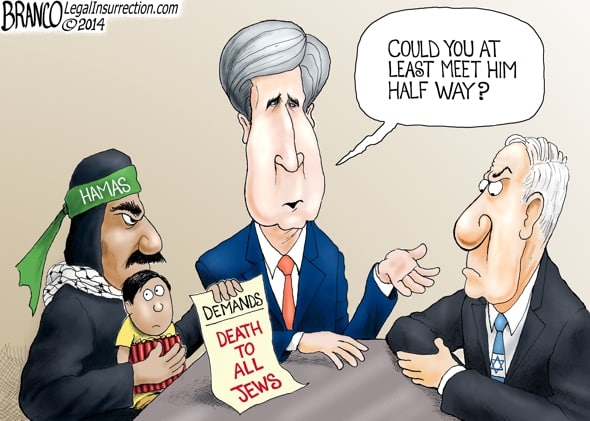 Australia's' Dave Sharma gets it, he said "civil society does not exist in Gaza."
So why do John Kerry and Ban Ki-Moon not get it?
Ban Ki-Moon stood in the Israeli President's House on the last day
Shimon Peres was President and said Israel had to "end the occupation."
Israel took every last Israeli out of Gaza in 2005.
Destroyed hundreds of Israeli families, homes and green houses and their financial security.
Many are not resettled today after these years.
Canada's Vivian Bercovici gets it:
To paraphrase, Hamas just stop the rockets.
Nothing is uniting Israelis more than Hamas trying to kill us, over and over again.
So where is civil society? Where is the real humanitarian crisis?
Please consider a donation. Besides the work we do - which includes scoops, exposing the haters and posting original and entertaining content - this blog takes up not just a lot of time but also money. Your support is appreciated.